Reading Time:
4
minutes
Star Wars Visions Volume 2 has brought together stories from 10 countries to tell stories from across the Star Wars galaxy. In Star Wars Visions Volume 2 Episode 5, "Journey to the Dark Head," audiences see the most action-heavy short of the season. They are also shown that light and darkness, despair and hope, all come together regardless of which one we feel is dominating at any given time. The short is directed by Park Hyeong-geun and written by Chung Se-rang.
Animated by South Korean Studio Mir, "Journey to the Dark Head" showcases the studio's skill in fight animation, use of light, and, ultimately, telling stories. As the longest short of the bunch, Star Wars Visions Volume 2 Episode 5 is also one of the strongest in the anthology series. Able to balance action with thoughtful lessons about life and living, Studio Mir has struck gold. The short follows Ara (Jang Ye-na), a member of a people tasked with recording the stories of fleeting prophetic visions shown in the stones of their home in a hidden temple far in the Outer Rim. When Ara learns about the rising power of the Sith, she wants to warn the Jedi to protect them from the darkness. But as record keepers, her role is to simply record what happens, not change it.
But in their temple, there are two large statues with faces obscured by clouds watching over them. One is light, and one is dark; in an attempt to change the tide of the war, Ara goes to the Jedi Council to plead for a mission to cut off the Dark Head and shatter the mirror of darkness that reflects a calamitous future. To help her in her mission, she meets Toul (Lee Kyung-tae), a young Jedi with a traumatic past. With a power that is untethered by his rage after his master is killed by the Sith named Bichan (Yun Yong-sik), this mission is much about Toul choosing his future as it is to turn the tide of the war.
---
---
Emotionally, Ara and Toul are a pair looking for their own purpose and future. For Ara, she wants to make a difference and change the future she saw, but finds herself at the center of it instead. Toul is terrified of turning to the Dark Side in his rage and grief, but instead being staying afraid, he learns to reconcile the emotions swirling inside of him. While both Ara and Toul are navigating their fears differently, they are navigating them and ultimately learning how to live with them.
Visually, Studio Mir has captured beautiful landscapes, feats of nature, individual characters that have dynamic designs (particularly in Bichan's Sith armor design), ships fighting, and most importantly some of the best lightsaber action that has ever been shown in Star Wars. Knowing when to use 3D CGI elements in vehicles and landmarks, the 2D characters stand out wonderfully, coming to life in a hyper-stylistic way that fits the sci-fi setting. "Journey to the Dark Head" is visually gorgeous in every single way possible. But that beautiful action is given stellar depth by a rousing score.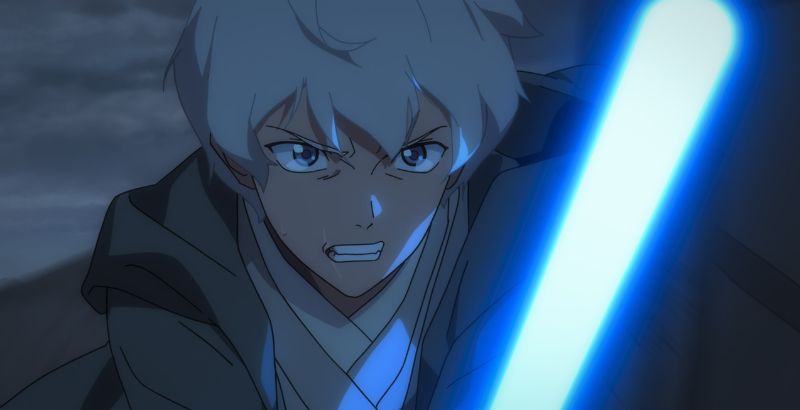 The use of traditional Korean instruments in the climactic battle creates a fascinating and fast-paced sequence that comes to life like nothing that's been done before. While the choice to make the dialogue all be Korean is one element of highlighting Studio Mir's Korean background, it's the music that really highlights the absolute importance of allowing each country to fill their short in this anthology with their culture. You can hear hourglass drums, cymbals, rattle bells, and the taepyeongso in the most dramatic moments, which then  how the music morphs into more the strings we have come to connect with a lightsaber battle brings something beautiful to the "Journey to the Dark Head." Jang Young-gyu and Lee Byung-hoon's music in this short completes the immersive story.
Studio Mir isn't a studio without notoriety, having worked with Netflix on titles like Voltron, Kipo and the Wonderbeasts, and DOTA: Dragon's Blood. The studio is also behind the iconic The Legend of Korra series. That said, to see the series produce a short in Korean and featuring Korean instruments feels like an accomplishment that centers their culture in animation.
The reason it feels so important? Because outside of Lookism, most of their catalog animates English-speaking properties. Beyond that, much of the outsourced animation for many Netflix animated projects and anime goes to the talented folks at Korean animation studios. Still, Korean studios rarely get the recognition they deserve. But here, in Star Wars Visions Volume 2, they get the chance to thrive at the center of the story and to do it in their language with Episode 5.
"Journey to the Dark Head" is the longest of the shorts in the Star Wars Visions 2 anthology, but as episode 5 and the halfway point, I wanted to stay in it. I could take a whole series, a whole film, I want to see more of what Studio Mir can do in the franchise. Studio Mir has crafted an 18-minute story that builds emotion and action in equal measure, capturing the beauty and heart in an intense action sequence.
Star Wars Visions Volume 2 Episode 5 is streaming now on Disney+ with the rest of the anthology. 
Star Wars Visions Season 2 Episode 5 — "Journey to the Dark Head"
TL;DR
Studio Mir has crafted an 18-minute story that builds emotion and action in equal measure, capturing the beauty and heart in an intense action sequence.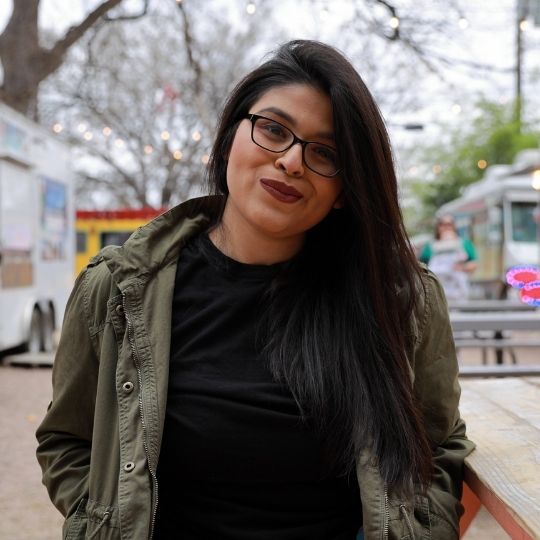 Kate Sánchez is the Founder and Editor-in-Chief of But Why Tho? A Geek Community. There, she coordinates film, television, anime, and manga coverage. Kate is also a freelance journalist writing features on video games, anime, and film. Her focus as a critic is championing animation and international films and television series for inclusion in awards cycles.