The initial reveal of the Saints Row reboot was met with some pushback by fans of the series. They voiced concerns over the game taking itself too seriously, characters being cringe-worthy, and gunplay that looked like it hadn't evolved in the decade since Saints Row 4. As a reasonably big Saints Row fan myself, I was disappointed in the reboot's reveal. But now, I was lucky enough to check out the game for myself with over four hours of hands-on time with the game at an event in Las Vegas, and I've been swayed by the vision the developers have for a more modern take on the Saints.
My time with the game started with making my character in the "Boss Factory," the game's character creator that even received a standalone release. To put it simply, the Boss Factory is one of the best character creators I've seen. It has a bevy of options, including the ability to make your character have an asymmetrical face that can be individually tweaked in various parts.
The developers also deserve praise for how inclusive of a system it is. Not only does it include multiple prosthetic options for your character's arms and legs, but it also doesn't put gender labels on anything. Players are free to change the physicality and appearance of their character without having to stick to certain labels or styles. It is really great to see Volition go in this direction, and I hope it continues elsewhere in the industry as well.
Once I had my character finished up, which ended up looking like a more-jacked version of Jake Gyllenhaal in Brokeback Mountain, I was introduced to the player's main accomplices. Now, I was among the fans who weren't very impressed with the supporting characters from the reveal, but I think that was more of a presentation issue than anything else.
In the reveal, the characters came off as one-note and gimmicky, while in the game, they have a bit more subtlety to them. However, I can understand why the developers may have had a hard time communicating this in the game's limited reveal as their subtleties are mostly communicated through their interactions with the player's character. As a group, the four characters speak very well about the experiences of struggling millennials.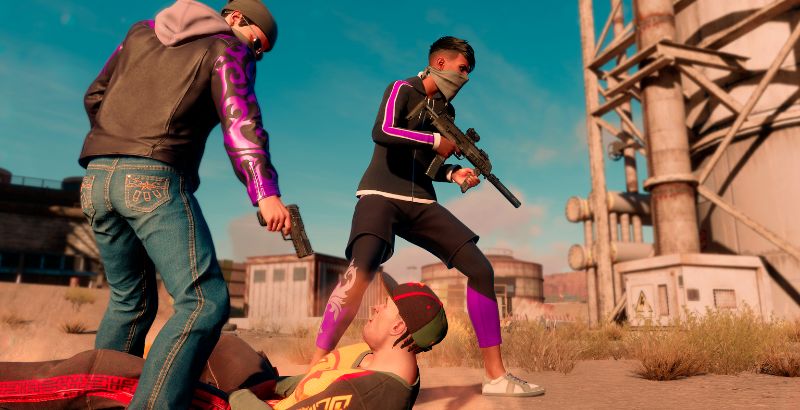 Now, I know that talking about millennials can be a bit tricky and exploitative, but Saints Row does it in a genuine way. The four characters all live together in a dingy apartment where they barely make ends meet and have few options to try and make money. Getting a working toaster is a big cause for excitement, and the only thing that really makes living worthwhile for them is hanging out with one another. So, the four of them decide to start a criminal empire to stop living paycheck to paycheck. Now, I don't think most millennials end up starting criminal empires, but their situation leading up to doing so definitely is familiar to me.
Going into my time with the game, I also was anxious to see how the game's combat felt. The Saints Row series has never had groundbreaking combat, but I was hopeful that there would be some improvements from the series' decade-long break. The gunplay in the game all felt very similar to what the series sported before, but there were a few interesting additions that helped mix things up.
Firstly, players have a signature move that charges as they get kills. This move can then be activated to perform an animated melee kill that refills the player's health. Combat is made much more aggressive with this mechanic, and it does a lot to help give you the tools to continue pushing forward even in hairy situations. The second new mechanic is different combat abilities that you can equip four of at a time. These help you tailor your playstyle alongside your guns to create a good amount of variety. In my time with the game, I unlocked abilities that let me put a grenade in an enemy's pocket and throw them or bolster my health for a short while and they both helped me tailor my playstyle to be as aggressive in gunfights as possible.
But it wouldn't be Saints Row without the ability to grow your gang in style, and the newest entry gives you more ways to do so than ever before. Not only does this include more detailed character and vehicle customization, but also the ability to change up the home base of the Saints. Players can even decide which businesses they use as fronts for their operation and where they are placed throughout the city of Santo Ileso.
One of the biggest impressions I had after walking out of my time with Saints Row was how it felt like a type of game that doesn't get released very often anymore. With a lack of battle passes, seasonal content, or the promise of being supported for years and years to come, it is refreshing to look forward to a game that is just a complete package up front. With that in mind, Saints Row seems like it has everything fans of the series or genre could want. There is fun action, amusing characters, tons of customization options, and some great bells and whistles that help bring the series formula to modern times.
Saints Row releases on August 23 for PC, PlayStation 4, PlayStation 5, Xbox One, and Xbox Series X/S.