Getting gifts for the gamer in your life can be a little tedious. But don't worry, we have you covered with our Blizzard Gift Guide. From Overwatch and World of Warcraft to Diable and Starcraft, we got some top picks from the Blizzard Gear Store to treat the gamer in your life – or yourself. The focus of this list is to include collectibles, games, and books from across Blizzard's catalog.
For the Shelf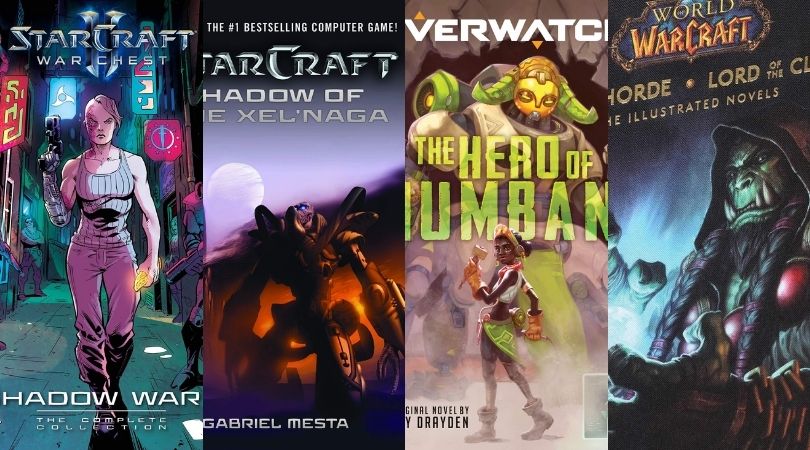 World of Warcraft: Exploring Azeroth: Eastern Kingdoms Novel: From the shining towers of Silvermoon to the sulfurous Blackrock Mountain to the white stone castles of Stormwind, the Eastern Kingdoms are vast and full of wonder. Every corner of the majestic isle contains countless stories, treasures, and more than a few secrets that some would prefer stay buried. Follow Spymaster Mathias Shaw and Captain Flynn Fairwind on an expedition across the Eastern Kingdoms for king and country as they chronicle its history and catalog the weapons, armor, and powers untold that are scattered across this sprawling dominion. Penned by New York Times bestselling author and Blizzard Entertainment writer Christie Golden, Exploring Azeroth: The Eastern Kingdoms is your first step on a truly remarkable journey across the beloved lands of Azeroth.
StarCraft: Shadow of the Xel'Naga Book (Blizzard Legends): Each species struggles to ensure its own survival among the stars in a war that will herald the beginning of mankind's greatest chapter — or foretell its violent, bloody end. Bhekar Ro: a bleak, backwater world on the fringe of the Terran Dominion, where every day is a struggle to survive for its handful of human colonists. It is a veritable wasteland — one speck of dust among many in the vast, dark sea of space. But when the most violent storm in recent memory unearths an unfathomable alien artifact, Bhekar Ro becomes the greatest prize in the Terran Sector — the Holy Grail of the Zerg, the Protoss, and Humanity alike — as forces from the three great powers converge to claim the lost secrets of the most powerful species the universe has ever known. An original tale of space warfare novels set in the world of the bestselling computer game!
World of Warcraft: Rise of the Horde & Lord of the Clans: Enter the fantastical world of the Alliance and the Horde with these two World of Warcraft stories by Christie Golden. Learn about the Orc Thrall's rise to power in Lord of the Clans, and then follow him through the history of how the Horde came to be in Rise of the Horde. This beautifully bound book is a must-have for any World of Warcraft fan and will be a treasured addition to any gaming library.
Overwatch: The Hero of Numbani Novel: In the technologically advanced African city of Numbani, in the not-so-distant future, humans live in harmony with humanoid robots known as omnics. But when a terrorist tries to shatter that unity, a hero named Efi Oladele rises!
StarCraft: WarChest – Shadow Wars: The Complete Comic Collection: A fragile ceasefire exists between the terrans, protoss, and zerg, but that hasn't stopped them from finding new ways to spill each other's blood. On a fringe world called Adena, a corrupt Dominion commander risks conflict between the three races for his own insatiable greed. The people who pay the price for his avarice are frontline grunts Elms, Contreras, and Yong. But for them, Adena is only the beginning of a long journey: one filled with deadly black-market deals, zerg infestation, and Elm's burgeoning psionic abilities. If they can all make it through in one piece, they might have a chance to finally become more than pawns in someone else's game.
The Art of Overwatch Limited Edition: Overwatch has taken the world by storm, boasting millions of players and gaining critical acclaim. Now, in this beautiful hardcover, Blizzard Entertainment reveals the creative process behind one of the most popular FPS games of all time! Filled with never-before-seen art as well as commentary provided by the game's development team, this book is sure to please any Overwatch fan.
Under the Tree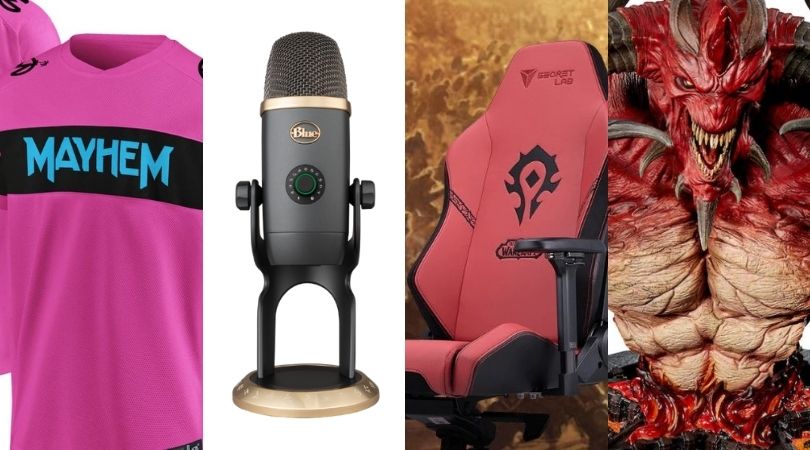 Secretlab World of Warcraft Horde x Alliance Gaming Chairs: Forge your legacy in Azeroth with the world's first official World of Warcraft seats. Rally behind either the Horde or Alliance and lead your faction to victory.
Small World of Warcraft Board Game: A light-hearted fantasy civilization game based on the World of Warcraft universe. Includes lavishly illustrated with exclusive artwork with straight forward rules, Small World of Warcraft is easy to learn while offering multiple strategies. The game can be played with 2 to 5 players.
Yeti X World of Warcraft Edition Microphone from Blue Microphones: Crafted together with Blizzard Entertainment, Blue's Yeti X World of Warcraft Edition professional USB mic can change the sound of your voice for a fully immersive streaming experience. Summon the sound of your favorite Warcraft characters using the all-new advanced voice modulation with Warcraft character presets or entertain your audience with hundreds of Shadowlands and Warcraft HD audio samples. Create a unique audio broadcast and elevate your stream to new levels with Yeti X World of Warcraft Edition.
Overwatch League x Jeff Staple Collaboration 2020 Jerseys: Show off your dedication to your favorite Overwatch League squad. For these specially-designed kit, Overwatch League turned to Jeff Staple, Founder and Creative Director of Staple Design, to merge the worlds of gaming and streetwear. The first uniform truly designed for eSports athletes, Jeff and the Staple creative team worked closely with the league and players to ensure they not only visually redefined the eSports kit, but also functionally, by incorporating technology and innovative features to enable peak player performance.
LEGO Overwatch Wrecking Ball 75976 Building Kit: For anyone who loves Overwatch hero toys and buildable mech toys, this LEGO brick-built model can transform from a mech into an epic ball and is packed with authentic details from the in-game hero. This LEGO Overwatch playset features a Hammond hamster figure that can pop up from the cockpit by turning a handle for added fun. Kids and fans will love building this authentic Overwatch model.
Diablo Lord of Terror 10" Bust: Diablo was the youngest of the Prime Evils, but I found him the most dangerous, for his power over terror left him incapable of feeling fear. Though he had easily possessed and corrupted many humans, Diablo's essence was finally trapped in a soulstone and banished to the unfathomable Abyss twenty years ago." As with all the Great Evils, Diablo spawned from one of the seven heads of the great dragon Tathamet. His domain in the Burning Hells was the Realm of Terror.
Product descriptions for the items on the Blizzard Gift Guide were taken from product description pages.