DC Comics' Black Label brings Birds of Prey #1, a new prestige format one-shot from writer Brian Azzarello, penciller Emanuela Lupacchino, inker Ray McCarthy, colorists Trish Mulvhill with John Kalisz, and letterer Steve Wands. In this new series, Black Canary's life has spiraled out of control. Her personal life is going through the wringer and her band is in crisis when an old flame resurfaces only to flicker out and set her on a mission against a new opponent. The only thing she has to be grateful for is the fact that she's not alone, as Huntress finds herself on a collision course with Black Canary's quarry at Detective Montoya's urging. Meanwhile, Harley Quinn has resurfaced outside of Gotham City and out of the Suicide Squad, with a new lease on life that is sure to make everyone else's life more complicated.
At 100-pages, Birds of Prey #1 promised to be filled with high-octane action and story that pushes the Birds of Prey far beyond their limits and puts them up against the most brutal crime syndicate to ever sweep into Gotham City. This brutal crime syndicate is not other than a group of Mexican coded villains equipped with calaveras (sugar skulls) – or as the Azzaello inaccurately names "Dia de la Muerte" facial tats in the comic. (It's Dia de Muertos or Dia de los Muertos)
Truthfully, reviewing this comic is hard. The Spanish written by Azzarello reads like it pulled from Google translate and there the depiction of every criminal as a person of color. When you extend past phrases like "puta de Joker" each and every Mexican coded character is stereotypically illustrated, making it clear that this creative team aimed to tell a narco story using DC Comics characters. Additionally, the tone deaf usage of Mexican aesthetics as something one step above narcos in a year where Latinx families have been separated, displaced, and the community faces racist rhetoric from the highest levels of government, is hurtful. DC Comics currently has no solo Latinx led titles, and yet, we keep being added to stories as boogeymen, as the evil, as the brown villain to be taken down by a group of white heroes.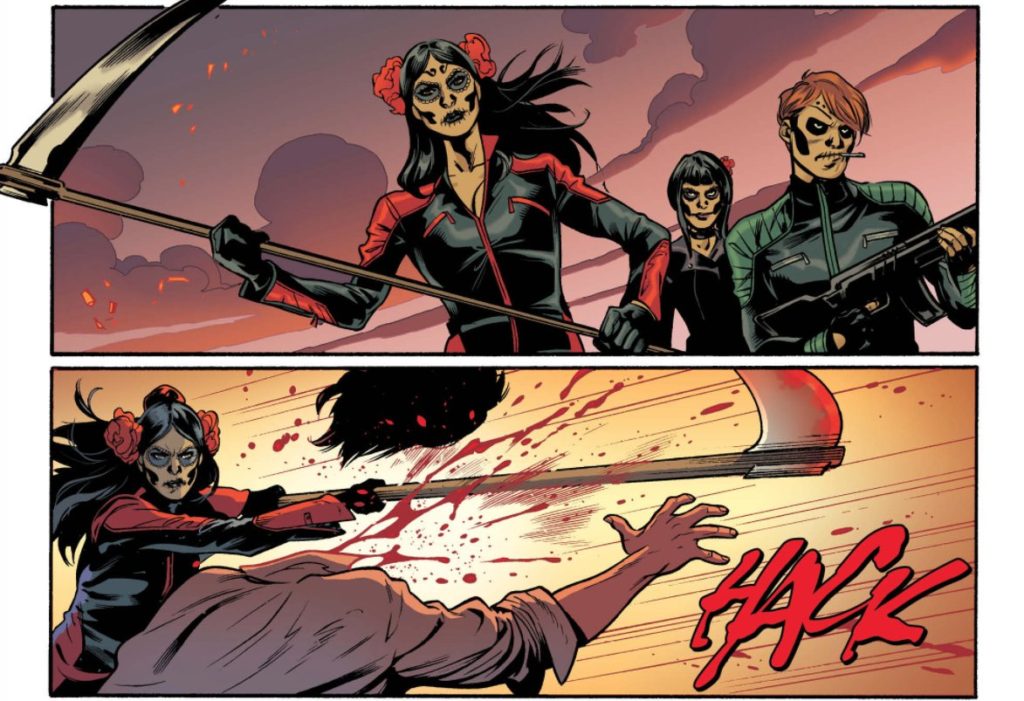 Birds of Prey #1 showcases the need for the Black Label imprint, with violence done for shock rather than story, with majority people of color winding up headless bodies in the panels. That said, the art itself is well done. But even that is marred by execution once colors are added. While colorists Mulvhill and Kalisz understand how to color darker brown skin, they struggle in coloring the Latinx characters – with their skin coming out jaundiced, even the iconic Renee Montoya. The worst part is that the tones of brown characters is not consistent across the different panels.
Bird of Prey #1 is the first time in years I have seen brown characters on a comic page and it has been so clear that there were no Latinx creators or artists behind the characters on the page. I have not looked at depictions of Latinx characters and thought "this is the furthest thing from what we look like" in years before this one-shot. Executing a narco story is by and large hard to do but in the hands of Latinx creators who care, they can be executed well.
From the depictions of the characters to the fact that Montoya's plot is to be with the calavera inked baddies because she is Latina there is too much wrong with this comic for me to recommend anyone spend money on it. I have never described a piece of media I've reviewed as racist, but that's all I can say for Bird of Prey #1. And that's not even taking into consideration how much Harley Quinn is defined by the Joker in this one-shot. Sadly, Birds of Prey #1 is a trope-filled narco story in Gotham that couldn't have come out at a worse time.
Birds of Prey #1 is available from comic book sellers now.
Birds of Prey #1
TL;DR
I have never described a piece of media I've reviewed as racist, but that's all I can say for Bird of Prey #1.