Reading Time:
4
minutes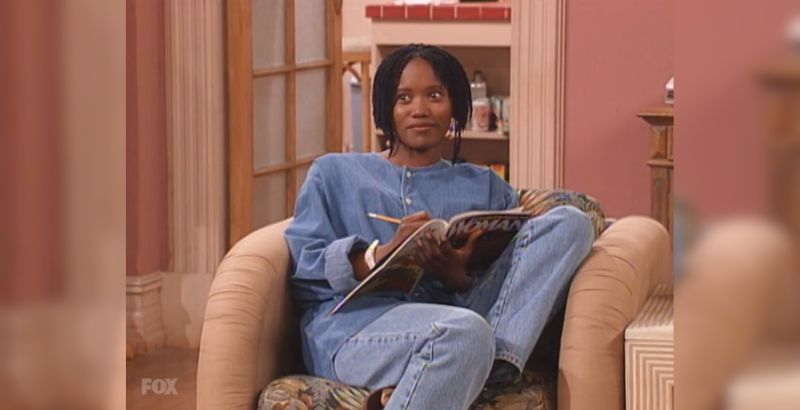 Before I found myself in Black women characters like Issa and Molly from Insecure, I looked up to Erika Alexander's iconic role in Living Single, Maxine Shaw. Living Single was an American sitcom created by Yvette Lee Bowser and ran from 1993 to 1998. It was one of the most popular Black lead sitcoms of the '90s throughout the entirety of the show's run and is still held in high regard to this day.
It was a comedy that centered on the lives of six friends who shared their personal and professional experiences while living in a Brooklyn brownstone in the '90s. The cast consisted of Queen Latifah as Kadijah James, Erika Alexander as Maxine Shaw, Kim Fields as Regine, Kim Coles as Sinclaire, T.C. Carson as Kyle Barker, and John Henton as Overton. Bowser's show was revolutionary and gave audiences a show with an all-Black cast of young professionals that dealt with relatable problems. The show tackled issues that were relevant during the time of the show's first airing, and that still holds some relevance to this day.
The topics included but were not limited to discussions about dating, relationship dynamics, sexism, discrimination in the workplace,  and much more all from the lenses of young Black professionals, each one with their unique perspectives. Best of all, no one felt like a token. Each character stood out in their own right, in a way that never made one of them seem more or less important than the others.
Each female character of Living Single brought their individuality and zeal to the show, the one that stood out the most for me and felt drawn to was the sharp-witted attorney, Maxine Shaw. Maxine or Max for short was Khadijah's best friend from their college days at Howard University and lived across the street from the other women of the show.  She would frequently stop by to raid their fridge, share her unique insights, and fill them in on her personal and professional life.
Erika Alexander's character struck such a significant chord with me because I saw qualities in Maxine that I admired and wanted to embody in myself when I grew up. She was bold, successful, confident, hilarious, and much more. She was also an independent and driven woman that had a successful career as an attorney and wasn't afraid to speak her mind. She showed me a version of myself that wanted to be and was possible to attain. I was so inspired by her I wanted to be a lawyer too.
I wasn't the only young Black that was inspired to pursue a career in law because of Maxine. Alexander has shared that many black women who are fans of her character have told her they became attorneys because of her. She likes to call this the "Maxine Shaw Effect."Nonetheless, while I didn't become a lawyer still like to think that embody the same drive and confidence in my career today as she did in hers on the show. I'll admit, as much as I loved Max, she was not perfect, and she had her faults too. But her flaws are what made her human and also made me feel seen as well. Now that I've re-watched the show countless times, I also notice I connect with her faults. Max prided herself on being a strong independent woman, and while she loved me, she didn't let her world revolve around them or their approval.
However, she struggled with being completely vulnerable with any man after a devastating break up with a long-term boyfriend. That is a part of her that I feel seen the most in more ways than one. I've had my fair share of breakups and heartbreak. So I have had my struggles with balancing my vulnerability with my independence and strength. I like to think of myself as a strong and independent woman that doesn't need a man to make me feel complete.
And that's true as I've gotten older, I don't believe being with or without someone affects my self-worth, I know who I am whether I'm in a relationship or not. However, similar to how Max learned, vulnerability isn't necessarily a bad thing though her tumultuous relationship with Kyle.  I've also learned that being vulnerable does not make me weak. Being vulnerable does not make me lesser, and I stand still be strong independent.
Overall, Max's character was ahead of the times. In several episodes, she spoke about the female empowerment moment and was always there to give an encouraging word to her girlfriends when they needed an extra. Whether if it was giving a pep talk on asking for a raise or give dating advice, she was there to remind her fellow woman of their worth.
To me, she was a  womanist icon that inspired a generation of young black girls like me to be all that we could be. To be comfortable and embrace ourselves fully. The impact that her representation had on me and countless other girls like me was immeasurable. Here was this Black woman on a prime-time television show who a dynamo in her career field and was comfortable in her skin, and most importantly, never compromised her self-worth.