Reading Time:
2
minutes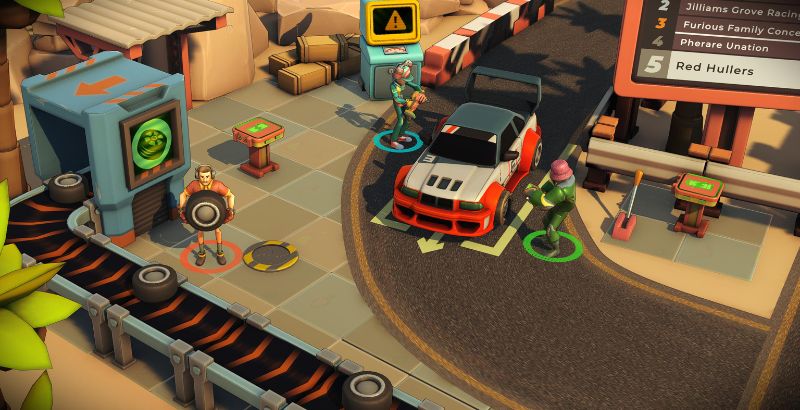 The checkered flag is just weeks away! Think you've got what it takes to jump into the racing boots of an elite motorsports crew? Wild Fields' Speed Crew is now available to pre-order on Nintendo Switch before its launch on June 8th, 2023. A multiplayer experience inspired by racing pit crews worldwide, Speed Crew will deliver an equal measure of well-planned strategy and spontaneous mayhem, as shown in the slick new pre-order trailer.
On race day, mechanics will be tasked with various duties, such as changing tires, refueling, and repairing damaged surfaces. With over 40 ways to fix cars, some of which involve multi-step processes, only the most well-coordinated crews can reach the checkered flag. Mending cars isn't the only obstacle; dynamic environments such as moving floors, sudden weather changes, and locking gates add complexity to even the most seemingly simple pit stop. Due to the unpredictability of repairs required, even a well-organized pit crew can be thrown into chaos, and quick decision-making may determine the difference between victory and defeat.
Teamwork is essential for Speed Crew to overcome the obstacles on the road to victory. With local and online cooperative play options for up to four players, Speed Crew delivers a race-winning co-op experience regardless of where your crew is located. There's also the ability to give underperforming crewmates a quick slap if inspiring words fail to motivate them! A wide range of character and vehicle customization options complements Speed Crew's vibrant aesthetic. We all know that nailing the perfect pit stop is only half the battle; doing it in style is equally important! The game also pays tribute to motorsport legends with unique levels set in the 1970s, 1980s, and beyond, where style was just as crucial as speed.
Features
Control a chaotic race day pit crew and fix cars in over 48 levels
Change tires, replace broken engines, hammer out damage, and much more
Dynamic stage hazards ensure that no two pit stops are the same
There's no I in team! Communication and cooperation are crucial to victory in the pits
Become a smooth operator with a wide variety of customization options
Speed Crew will cross the finish line and arrive on Nintendo Switch on June 8th for $19.99/€19.50/£16.75. For racing fans looking to secure pole position, pre-order Speed Crew now on the Nintendo Switch eShop to get ahead of the competition! For non-Switch owners, Speed Crew plans to park itself on PC, PlayStation, and Xbox in the future. So to stay on the apex of the project no matter your preferred way to play, follow the team on Twitter and join the community on Discord.