Reading Time:
2
minutes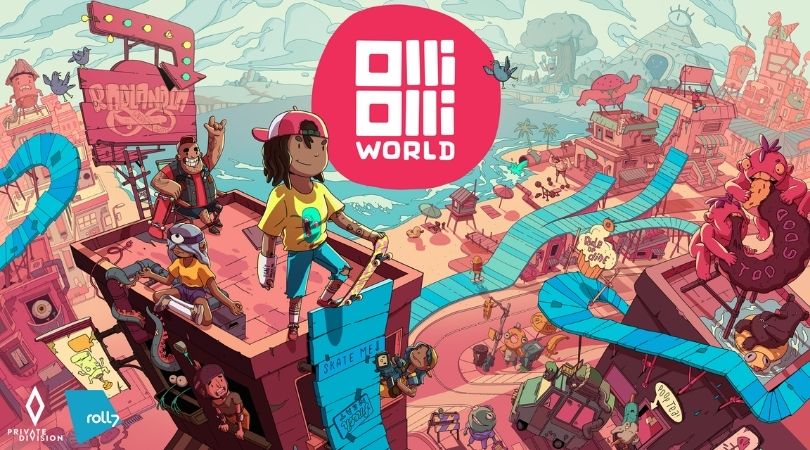 OlliOlli World, from developers Roll7 and publisher Private Division, is looking to be a big jump for the OlliOlli series. Not only is it the first OlliOlli game in six years, but it is also the first tie the series has jumped from 2D to 3D, adding a whole new dimension to the game.
OlliOlli World takes place in Radlandia, a world full of color and whimsy where skateboarding is the go-to mode of transportation. Players take control of a fully customizable protagonist and travel throughout each level, meeting new characters, taking on side quests, and getting the highest score with sick tricks.
After spending some time with the game, I can confirm that this is the best the series has ever been. Everything in OlliOlli World is dripping with charm. While the new 3D art style might look a bit off-putting at a glance, you very quickly get used to it during gameplay, especially due to how good the game looks in motion. While the 2D art style of the past two games definitely holds up, they blend in with other similar pixelized games. In comparison, OlliOlli World looks fairly unique, cementing itself in the memories of all who play.
OlliOlli World also features an incredibly charming cast that had a smile on my face the entire preview. While you won't be experiencing a super deep narrative or be moved to tears, OlliOlli World will make you laugh more than once, and you're sure to fall in love with at least one of its colorful NPCs. The actual scenes where you interact with NPCs do feel a little bit dated graphically compared to other modern games, but the charming art style and clever writing make up for it.
Another aspect in which OlliOlli World shines is its rocking soundtrack. Chances are, as you grind, ollie, and kickflip your way through Radlandia, you'll find yourself humming along with the many amazing tunes featured in each level.
Gameplay is where OlliOlli World truly shines. The game is the new gold standard when it comes to side-scrolling skateboarding. Whether you find you consider yourself a pro at skateboarding games or are a complete newcomer to the genre, OlliOlli World has you covered. You can adjust the game's difficulty based on your skill level and increase it as you learn, meaning someone with no experience can still perform the same awesome tricks that a total master can. Actually mastering the games' full control scheme will definitely take some time and practice but, once you do, landing tricks becomes all the more satisfying.
There is a ton to love about OlliOlli World. Fans of the previous games in the series will find the same enjoyable skating gameplay they have come to love, and newcomers will be able to utilize the scaling difficulty to have a good time while being drawn in by the new appealing art style and world. Radlandia is basically begging to be explored, and if you are a fan of skateboarding games when the full game is released later this year, you owe it to yourself to dive in.
OlliOlli World releases on PC, PS4, PS5, Xbox One, Xbox Series X/S, and Nintendo Switch later this year.