Reading Time:
4
minutes
While I've had the pleasure of covering film festivals for two years now, I haven't had the fortune to cover one that features so many live-action anime and manga adaptations. But Fantasia Fest 2020 warmed my weeb heart and with none more than Kakegurui, a live-action adaptation from director Tsutomu Hanabusa based on the popular Yen Press manga by mangaka Homura Kawamoto and Toru Naomura of the same name, which was also made into a Netflix Original anime. Now, adaptation may be a word that doesn't quite fit this film. While it is a live-action story in the world of Kakegurui and takes into account events from the manga and anime, this film is an original story written by the mangaka Kawamoto and Naomura, with Hanabusa and Minato Takano as additional writing credits for adapting it to a screenplay.
Additionally, this film fits into existing live-action Kakegurui canon which features a series with two seasons that is considered a Netflix Original in the United States. By utilizing the same actors from the series, Kakegurui builds on the existing story by introducing new characters and plot points and keeping it all surprisingly grounded for the ecchi-lite title that features absurd gambles, out of this world danger, and contraptions. If you're unfamiliar, Kakegurui takes place at Hyakkaoh Private Academy, where gambling determines the school's hierarchy. Those who lose all their money and wind up in debt are "dogs" for the other students, and those with the most money run the school, with those at the top making up the infamous or illustrious (depending on which character's perspective) student council.
Our main character is Yumeko Jambami (Minami Hamabe), a transfer student who is in constant search of the ecstasy that gambling provides. This has led her to challenge the student council and beat all of those who have crossed her path. While fans of the source material will enter this film knowing Yumeko's purpose, Kakegurui quickly recaps her wins, explains the school's system, and reintroduces characters we would have met in the live-action series all within the first 20 minutes (if not less) of its two-hour runtime. By doing this, the film opens up the rest of its time to focus on the new original story which directly confronts Hyakkaoh Private Academy's caste system. Enter, The Village.
The Village is a group of students who don't wear the red Academy jackets and have all descended so far into debt that they would have been considered "doggies" when with the other students. Here, there is no gambling, there is equality. While Eri Arukibiju (Haruka Fukuhara) seems to be the leader of The Village when they venture to the other parts of campus, their true leader is the mysterious Amane Murasame (Hio Miyazawa). The only person to defeat the school's president, Kirari Momobami (Elaiza Ikeda), in a gamble, he has his own traumatic reasons for shunning gambling and providing those in the Village with a haven away from the school's caste system. When The Village begins to disrupt the gambling order of the Academy, the council opens up a student representative election in which every student must gamble or face expulsion.
Pushed into competing, The Village attempts to move its leader to join forces with Yumeko for a winning ticket. But, true to his morals and choice to avoid all gambling, Eri goes in his stead but without the compulsive and ecstatic gambler Yumeko by her side. Like the competitions before, Yumeko chooses the neurotic and annoying Ryota Suzui (Mahiro Takasugi). Their pairing which plays off of completely opposite personalities, as well as the others around them that do the same, drives much of the comedy through the film.
Truthfully, Kakegurui satisfied my fan appetite with moments of pure absurdity while still remaining grounded to the live-action medium. There is so much that can be done in animation and illusions that the series leans into hard. Elaborate gambles with comedic bodily moments, giant contraptions, and more. But, for this live-action, outside of some nicely-timed and animated bulging eyes and high flying act by a character, there aren't really eccentric moments in the same way as the source material. While this may leave some fans disinterested, especially given the ecchi styling and comedy of the source, it works well for general audiences.
Kakegurui keeps the heart of the source material by changing it for the format in a realistic and still adventurous way. As an original story, the simplicity of the gambles lets the actors sell the narrative, its comedy, and its drama. The cast themselves deliver exaggerated performances that while may look off to an audience not familiar with anime's trope in general, for this anime fan it all fits. Specifically, watching Yumeko's switch from quiet and patient gambler to one experiencing "ecstatic gambling" is wonderful. Additionally, Amane's calm demeanor cuts through all the scenes especially when paired with other more eccentric characters.
Overall, Kakegurui has done something that no other anime live-action has made me want to do—go watch the other live-action properties associated with it. Instead of retreating to the source material, this film makes me want to go see more of live-action Yumeko in action in the live-action series currently on Netflix. While those who come to the property for its ecchi won't be satiated with this Kakegurui, those who come to it for the characters and general audiences will walk away satisfied.
Kakegurui is currently screening at Fantastia Fest 2020 where it had its international premiere.
Kakegurui
TL;DR
Kakegurui has done something that no other anime live-action has made me want to do—go watch the other live-action properties associated with it. Instead of retreating to the source material, this film makes me want to go see more of Yumeko in action in the live-action series currently on Netflix.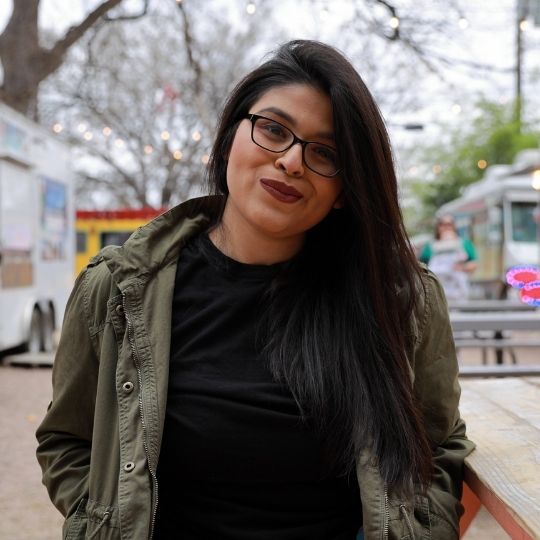 Kate Sánchez is the Founder and Editor-in-Chief of But Why Tho? A Geek Community. There, she coordinates film, television, anime, and manga coverage. Kate is also a freelance journalist writing features on video games, anime, and film. Her focus as a critic is championing animation and international films and television series for inclusion in awards cycles.