World of Warcraft: The War Within is World of Warcraft's eleventh expansion coming in 2024 along with the game's twentieth anniversary. During Blizzcon 2023's opening ceremonies and subsequent panels, a lot of information was revealed about the immediate future of the game, particularly about what exactly is a Warband and how Delves work. We got to sit down in a group interview with World of Warcraft's Associate Design Director, Maria Hamilton, and Lead World Artist, Kristy Moret, to go into more detail about The War Within and how the team is approaching the three newly announced expansions.
One detail about The War Within that was revealed with pre-order bonuses was the three-day early access for those who buy the $90 Epic Edition of the expansion. When asked what safeguards are in place to make sure the game doesn't become pay-to-win with this headstart, particularly with the auction house and people quickly cornering the market before the mass of players begin their journeys, Moret responded:
"What we have been looking at is making sure that the Early Access period is really a leisurely time for players to start the campaign and to really enjoy their dive into the story for The War Within. And to that end, there will not be access to mythic raiding, or Mythic dungeons, or any of that kind of max-level weekly daily content so that folks don't feel like they have to join the Early Access. It's really more of just a nice little perk for folks to kind of enjoy themselves as the expansion starts. So we hope to head some of that off just by not having some of those progression systems already available for min-maxing".
Another guild restriction is getting lifted in The War Within with cross-realm guilds finally becoming possible. One major restriction still remains for the game – cross-region play. Hamilton addressed this: "It is more complicated, as you could guess. We heard from some folks, 'Gosh, I just want to play with my friends, right? And my friends are all over the world.' And we heard that and that's part of why the Horde and Alliance and cross-faction stuff came about."
Another reveal from Game Designer Chris Metzen during the opening ceremony was that expansions would be coming more frequently moving forward. Asked about what this means and about more concrete timelines, Moret said, "We can't speak to any specific numbers. But yes, it will be faster than two years. We'd like to make sure that folks are not finishing the World Soul Saga in 2030. So we've worked on structuring our teams and our development pipelines so that we can parallelize a lot more work and make it so that we're already working on Midnight."
Talking further on the new pipelines and how it's changed development on World of Warcraft, Hamilton described this in more detail: "We've gotten very good now at working on multiple things simultaneously and moving people around as needed to work on those things. So our pipeline has gotten better as a result. So Christy and I might be reviewing Guardians of the Dream (patch 10.2) stuff, and then looking at something at Midnight, and then we might then look at, you know, Hallowfall. So we're bouncing around, keeping an eye on things and making sure that everything stays cohesive."
In fact, Moret confirmed that the change in pipelines or technological limitations hasn't led to any scaleback of features: "One example of new tech that we got that is honestly super epic, in my opinion, [is] the crystal in Hallowfall Canyon. Most of the time, it's beautiful and bright, and giving warmth to this land that they're there after you have arrived at. But sometimes it flickers off, and the whole zone feels dark and a little bit more spooky and a little bit more different. This is all new tech that we had developed for this expansion."
"And it was a really bold vision that folks originally had for the zone, the idea of the light having an impact on the gameplay of the zone, what creatures appear when it becomes dark. We just really wanted to push for that," shared Moret before further expanding. "We have actually had amazing support from our engineering teams on implementing a lot of the new features that we want to have for war were then things like the airlock tech that allows you to go from the Isle of dorm directly down into underground spaces without a loading screen all of that stuff has been very kind of like stretch goals almost and but we've been able to get them."
When asked about the new one-to-five-player feature, Delves, Hamilton gave us more insight into what will be involved in these new activities: "It is repeatable. It is not a daily or anything you're not locked out. There will be some ways that you can improve the loot that you get and that will be more limited but you can run them with your friends again. We want you to play with your friends. If you only have one friend online you guys want to go run delves, have a great time. You'll get loot, you just may not get the best loot over and over during the day."
Looking back at Dragonflight, it taught the development team a lot of lessons moving forward. Hamilton told us some of these, including the introduction of so many catch-up features: "It was the first time we were doing the cadences fast, we weren't sure how much to put in. Maybe we went a little overboard. Maybe we won't do that." Additionally, Moret added that with the faster cadence of patches learned from Dragonflight, "we have opportunities to tell some of those smaller stories to follow up on some of these threads."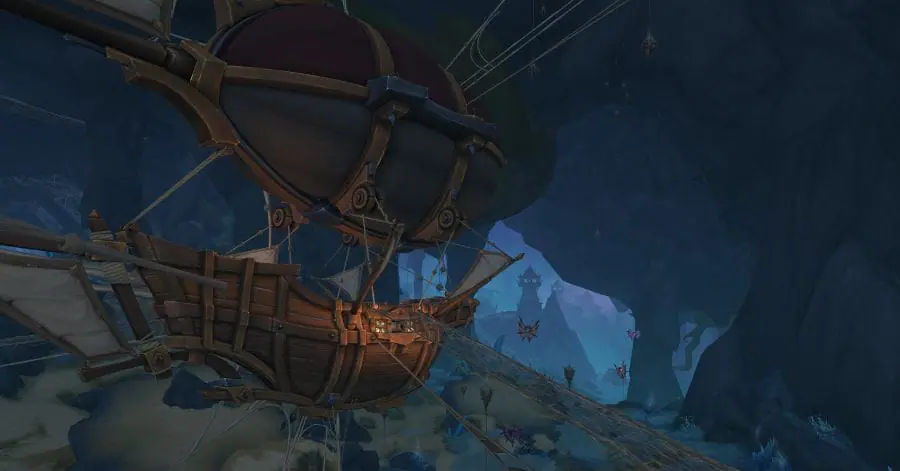 Recently revealed was Dragonflight is not getting a patch 10.3, meaning the expansion is most likely a three-raid expansion, a decrease from the usual four+ raids expected in an expansion. Hamilton was asked if players will be given a heads-up before an expansion's launch into the expected content so they how much gameplay they will get out of the new experience. Hamilton answered, "We did a roadmap. It was very successful this past year, and so I know a roadmap will come out. But I don't know if they will give more than a year at a time on the roadmap."
Looking at the future expansions and maintaining hype, Moret told us that there is more to come with Midnight and The Last Titan: "There will be some fun surprises and other exciting things that we'll get to announce new features, improvements on features that will help kind of drive that little hype train, keep it rolling as long as we can."
With all this content coming out, the topic of AI and its usage arose. Moret assured us that AI will not be used in the creative process, only for really minor mundane tasks: "We want to use it in an ethical way, and in a way that isn't going to replace any creative work that people like to do. A big project that was embarked upon that uses machine learning is refitting helmets to all character races. This was a huge project that was very tedious for an individual character artist to have to do. That's not super fun, right? Like, you're pulling a couple of bones here and there to try to get it exactly to match. You gotta refine it. You do it 317 more times. So that is actually a low spot where we saw an opportunity to solve that problem through using some sort of machine learning,"
Hamilton added, "I don't think you can replace human passion. You just can't. Trying to do that seems very, very silly to me. Anything that requires creativity? We rely on people."
Whatever is to come, the greater World of Warcraft team seems to have addressed many of the issues that came from the pre-Dragonflight era. The passion is there in the team, and passionate people are still working on the game. The War Within and the rest of the Worldsoul Saga is a love letter to fans, showing that World of Warcraft is here to stay.
This interview was transcribed from audio and edited for length and clarity.