One of the hardest tasks that can be set before a young person is coming to terms with how wrong those around you can be. When everyone you know tells you someone is bad, despite the facts you know saying that is not the case. To have the strength to plant yourself within your own convictions, look everyone you've ever known in the eye and say, "NO! You're wrong!" It is that level of conviction, shown from the earliest moments when fans are first introduced to Nobara Kugisaki in Jujutsu Kaisen that makes her a memorable character. While she can be abrasive at times, her strength of character and her loyalty to those who earn it cannot be doubted. Despite being one of the weaker sorcerers at Jujutsu High, ranked only as grade three, she consistently is able to punch above her weight class thanks to her determination and shrewdness.
Before the anime plunges any deeper into the Shibuya Arc, we thought it might be a good time to explore this character, catching up on what we know of her past, her jujutsu abilities, how she has connected to those around her, and glimpse into what is soon to come. If you keep reading, you want to know more; more comes with spoilers.
---
Who Is Nobara Kugisaki?

Nobara Kugisaki is a first-year student at Jujutsu High who hails from a small, unnamed village in the Japanese countryside. While few specifics are given about Nobara's life before coming to Tokyo, we do learn in a flashback during her first appearance about the galvanizing events that caused her to want to abandon the country, preferring to make her way to the city as a Jujutsu Sorcerer.
When Nobara was young, a woman named Saori moved to her town from Tokyo. We learn that Saori was kind to Nobara, giving her sweets and treating the young girl with warmth and friendship. However, the other townsfolk distrusted Saori. Believing that she looked down on the townsfolk as foolish country bumpkins, despite her kind nature, they harassed her until she was eventually forced to move away.
Seeing how everyone in the town treated Saori greatly upset Nobara. This moment was what made Nobara resolve to leave her town and search out the big city.
This sense of self-determination in what she believes is a core part of Nobara's character. She never lets people who haven't earned her faith sway her heart. This sense of conviction is most clearly spelled out at the end of the Origins of Blind Obedience Arc when she tells Yuji Itadori, "There are only so many seats open in my life, and I don't want to let my heart be swayed by anyone who's not sitting in one of them." While this statement may come across as close-minded, she expands upon it, telling Yuji how there are also those people who bring their own chairs and sit down, him being one of them. This addendum shows that, while she is determined, she is willing to allow others into a place where they might sway her, they just have to earn the right.
Nobara can also be a true clown when the mood strikes her. Most frequently, these moments come when she joins in with Yuji's playful ribbing of their classmate, Megumi Fushiguro. The pair can be downright ridiculous at times, as they frequently go out of their way to make light of their often dour companion.
While most of her time in the series to date has seen her alongside her fellow first-year students, Nobara has also found a mentor figure at Jujutsu High in the form of second-year student, Maki Zenin. After a confrontation with Maki's sister Mai revealed to Nobara that Maki cannot wield cursed energy, but that she pursues jujutsu sorcery to stick it to her family for writing her off due to this deficit, Nobara instantly declares Maki to be cool, and the pair have been seen together periodically around campus. That Nobara would feel this way about the confident upperclassman is unsurprising. Since much of her drive to move to Tokyo stems from her disdain for her hometown, the two motivations make for an obvious connection.
What Are Nobara's Cursed Powers?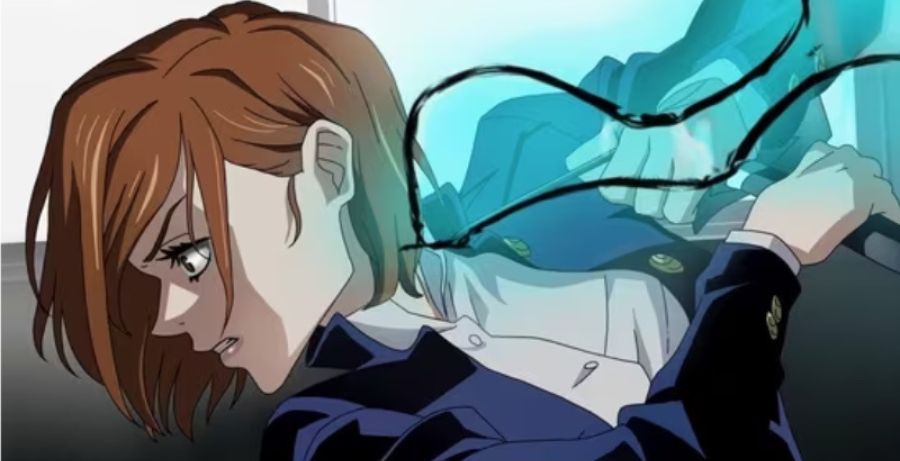 Possessing a high amount of cursed energy, Nobara is able to utilize a number of powerful attacks and innate talents to exorcise curses. Never far from her trademark hammer and nails, Nobara is always quick to charge her nails with cursed energy before sending them hurtling at opponents. This unique style allows her to threaten enemies at a medium range with ease.
Utilizing her projectiles further, Nobara can use an innate technique called Hairpin. This technique causes the nails embedded in her foe to explode with tremendous force, causing significant damage to the target.
Nobabra's most iconic innate technique is Resonance. By applying a straw doll to a portion of a foe's body that has been separated from the core body and driving one of her nails through it, Nobara can deal damage to her enemy wherever they are. The larger and more critical the body part is, the better her Resonance will damage its target.
While Nobara possesses a large amount of cursed energy to draw upon and a number of innate techniques she can implement, it would not be overselling it to say Nobara's greatest power is that of her cunning mind. While this has been showcased multiple times during the series, like when she manages to drive Momo from the skies during the Exchange Event, never do all of her strengths coalesce more perfectly than during the Origins of Blind Obedience Arc.
When she and Yuji are exposed to a curse user's blood that will slowly make them decay from the inside, Nobara turns the tables on her opponent by using her Resonance technique to hit them back, forcing them to break their hold on the technique that they are using to poison her and Yuji. But since the only element of her opponent is the blood she has been infected with, she forgoes her usual doll medium and uses her own body to strike back at her opponent. Driving her signature nails through her own arm repeatedly, while smiling as her opponent is sent reeling from the shocking pain she inflicts on him, she manages to force her foe to break his hold on his cursed technique, saving both herself and Yuji, as well as creating the opening that would allow them to defeat their opponents.
How Big a Role Will Nobara Kugisaki Play in Jujutsu Kaisen Season 2?
With a pair of battles during the Shibuya Arc with curses like Mahito and Shigemo, Nobara will continue to find both her strength and cunning put to the test. Despite the significant powers that will be set against her, she will acquit herself admirably, to the point where Mahito will come to view her as one of his natural enemies, placing her on the same level as Yuji in his eyes.
---
Jujutsu Kaisen Season 2 is streaming now on Crunchyroll, with new episodes every Thursday.