This is your spoiler warning for the rest of Jujutsu Kaisen Season 2's Cour 2, "The Shibuya Incident." This is everything you need to know about Kenjaku and, with that, the body he occupies currently, Suguru Geto. Created, written, and illustrated by mangaka Gege Akutami, Jujutsu Kaisen is one of the top shonen out right now, and with one of the anime series heading full throttle into one of the most shocking parts of the manga, we're here to answer your questions early, and tell you everything you need to know about Kenjaku.
Who is Kenjaku in Jujutsu Kaisen?
While you may not know his name now, Kenjaku becomes the primary antagonist in the Jujutsu Kaisen manga series and is still such in the current chapters of the manga (as of September 2023). Like Master Tengen, Kenjaku is an ancient curse-user who has lived for thousands of years, even longer than Tengen. Established in the Hidden Inventory Arc of Jujutsu Kaisen, body transfer is not only a capability for Jujutsu Sorcerers but is a necessity the longer they live in order to keep some semblance of humanity—or, in Kenjaku's case, to keep increasing in power.
Kenjaku has transplanted his brain into bodies over the years not only to keep living and accumulating power but to ensure that his long-term plans are set in place, from the creation of the Cursed Womb and even Yuji Itadori's birth. When it comes to who Kenjaku is, beneath the identities he assumes, the answer is arrogant and essentially anyone he needs to be. While he has his own followers, they mean nothing to him.
While Akutami has made it clear that the powerful view those around them as ants, Gojo included, Kenjaku is a character with no sense of loyalty, humanity, or care for anyone or anything that doesn't directly serve his purposes or goals. Kenjaku's philosophies are based in dismantling the modern structure of Japan that favors passivity and maintaining the status quo first and foremost. He is a disruptive man with thoughts of highlighting the the fact that all of society stands on a razor's edge away from complete ruin. Chaotic and egotistical, pinpointing his ideals is as fraught as predicting who he will be next. He is his own ideal, and those who are not him aren't worthy of existence.
What are his Cursed Powers?

Kenjaku is as powerful as you would expect a curse-user who is over a thousand years old. His strength has shown in nearly every iteration of himself. As Noritoshi Kamo, Kenjaku created the Cursed Womb: Death Paintings, making him the most infamously evil curse user in history. In the Heian Era, he turned a sorcerer into a cursed object. And when it comes to barriers, he is only second to Tengen—which isn't really fair when Tengen's only power is creating barriers.
A master of manipulation, Kenjaku has been able to master people as well as power, moving them to fit his plans and exploiting their powers as his own, particularly when it comes to Mahito and Choso. When it comes to Cursed Energy Manipulation, it's no surprise that Kenjaku contains massive amounts of cursed energy and is never fearful of the strong curses he keeps around him. His primary innate technique, and the one that matters the most, is that he's able to move his brain from body to body, the only noteworthy mark being the band of stitches across the top of their head. When he takes over a body, he also gains their innate cursed techniques, allowing him to build on top of his own power repeatedly.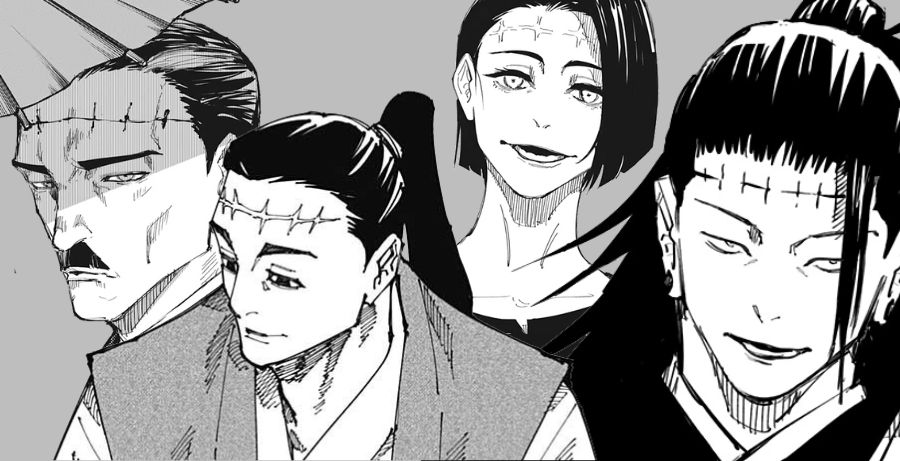 While we have an image of the oldest body that Akutami has written for Kenjaku, at just 400 years before the events of Shibuya, we have no name, only the knowledge that he used him to make binding vows with past sorcerers at the time. Then, there is Noritoshi Kamo, who bound human flesh to curses known as Death Paintings. The next known body is Kaori Itadori, yes, the mother of that Itadori. As her, he gave birth to Yuji, though Akutami has not revealed why. But in addition to birthing Yuji, he was able to take Kaori's Antigravity System Curse Technique, which allows him to negate the gravity around him or increase his own gravitational pull.
That leads us all to Suguru Geto. Currently, in Geto's body, Kenjaku can use the same curse-eating Curse Technique that Geto had, including using his Maximum, Uzumaki, which released the curses housed in his body as one attack. Finally, Kenjaku uses a Domain Expansion that takes the form of a giant pillar similar to Sukuna's Malevolent Shrine.
How Big a Role Will Kenjaku Play in Jujutsu Kaisen Season 2?
While Jujutsu Kaisen Season 1 showed Kenjaku as pseudo-Geto, his presence wasn't as menacing as his minions who fought with the Jujtusu High students. More of a presence in the background, Kenjaku now has all of the Geto's sins and weight from Cour 1 of Season 2. This automatically sets him up to be a menacing figure, but as the Shibuya Incident keeps moving forward, having started in Episode 8, Geto's shadow will fade, and Kenjaku's strength will turn the series on its head. With people not surviving, others disappearing, and still others facing parts of themselves that will nearly kill them.
---
Jujutsu Kaisen Season 2 is streaming now on Crunchyroll, with new episodes airing every Thursday through the Fall Anime season.