Prince of Persia is a series that I have been waiting to be reawakened and now, Ubisoft is expanding the franchise by bringing a new original story that embraces Persian mythology and dynamic platforming mechanics. Not a remake but an original addition to the franchise, Prince of Persia: The Lost Crown is a new action platformer developed by Rayman Legends studio Ubisoft Montpellier. With a trailer that featured some boss battle moments and a killer sound, it's easy to get excited for the game on this one trailer alone.
In this new adventure, players will embody Sargon, a young, gifted warrior, and member of an elite group called The Immortals. As they are sent to rescue Prince Ghassan, they will explore Mount Qaf, a once wondrous place, now cursed and hostile. Sargon and his brothers-in-arms will soon discover that time itself will be a treacherous foe and that the world balance must be restored. Inspired by the Metroidvania structure, Prince of Persia: The Lost Crown lets players explore a handcrafted world at their own pace.
From the majestic Citadel of Knowledge to the colorful landscapes of the Hyrcanian Forest, players will discover a variety of environments inspired by Persian mythology. By acquiring new time powers, unlocking unique abilities, and combining them in combat, Sargon will progressively delve deeper into Mount Qaf, solving puzzles, finding secrets, and completing exciting side quests.
Said to be an epic journey, Sargon will fight his way through mythical enemies, larger-than-life bosses, and vicious traps. By combining combat and platforming skills, players will defeat time-corrupted creatures such as Jahandar, the dreadful Manticore, guardian of the Citadel. And ahead of the Ubisoft Forward event, we got the chance to go hands-on with the demo build of the game. Spending around 30 minutes (depending on if you can parry well enough to beat the boss without dying 11 times like I did), I got the chance to explore the world of Prince of Persia: The Lost Crown.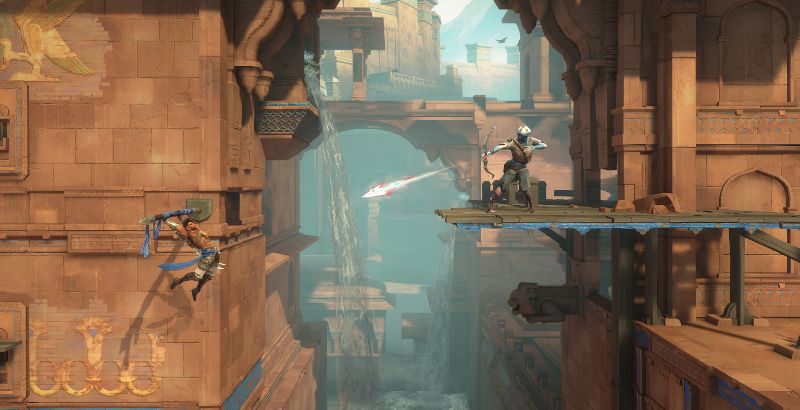 While we didn't get the chance to see any real story elements of the game, we did, however, get to explore the diversity of platforming and puzzle mechanics that the game offers. A side-scrolling action adventure, the game itself moves at the pace in which you do. If you're slow and methodical, you can take that reserved approach. However, if you're someone looking to run through and see how quickly you can platform through certain areas once you've learned a mechanic, then you can approach the game that way as well.
Fit with the standard platform elements, what makes this game stand out is how Sargon interacts with his world and how combat is directly related to the progression. With enemies at varying heights on different platforms, you have to be keenly aware of the entire stage and plan your progression through the level accordingly. However, if you choose to platform without killing the enemies from a distance immediately, then you can seamlessly traverse the environment while also stringing together attacks, with some of them gaining more damage dealing depending don't the traversal move proceeding it. By seamlessly building combat into the player's movement, the developers have crafted a dynamic experience for the player.
But combat isn't only stellar when connected to the platforming elements. During a boss battle with a manticore, platforming wasn't the name of the game. Instead, it was the parry. The skills that Sargon has are simple. You have a ranged bow attack, a heavy chakram ranged attack which deals damage when being thrown and when returned, melee dual sword attack, and then two specials that can be activated when you increase your energy bar. In an open arena, I battled a manticore and lost.
But this difficulty wasn't something daunting. Instead, I had to learn how to use my environment and how to use my traversal skills like the air dash and slide to get around and avoid attacks. But more importantly, I needed to parry moves, indicated by a yellow light from the boss's eyes, and trigger an animation sequence that dealt a sizable amount of damage.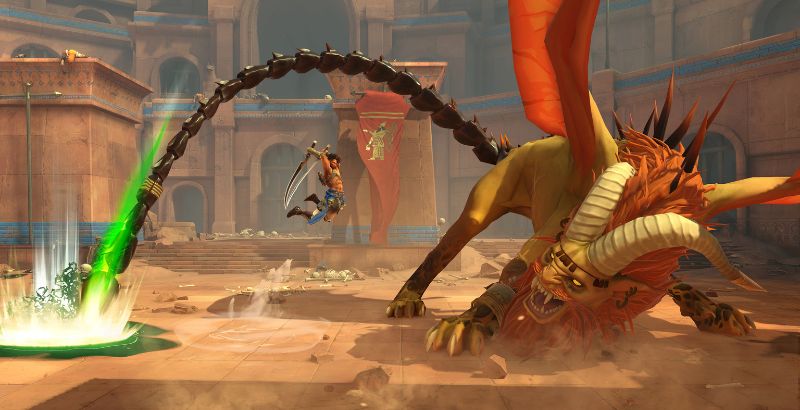 There are two elements of this boss battle structure that work extremely well. As a player who is awful at parrying opponents, it helps that the game doesn't make this the only way to do damage, ala a soulslike. Instead, if you can dodge past enough and maneuver well enough, you can attack and succeed with only two or three parry instances requiring any response. The ability to solve this boss battle, either way, is helpful, allowing for different player affinities while also utilizing a core combat mechanic.
Additionally, the game offers up time powers that allow you to place a specter of yourself and slingshot back into that same spot. This is an amazing component that helps deal with boss battles that require dodging for unblockable attacks that deal significant damage. At the same time, stringing the time powers together with the platforming elements and basic mob combat creates a gorgeous and creative experience for the player.
There is a fluidity to both combat and platforming that truly makes the game feel effortless at times even when you're struggling. Additionally, the environmental puzzles that you need to complete in order to progress and change your environment or get through spike obstacles safely adds a level of engagement that is necessary for the longevity of a platforming title. You have to think about how to interact with the stages, not just power through them, and that thought is what makes Prince of Persia: The Lost Crown an absolute gem of a title.
Prince of Persia: The Lost Crown is a vision. It's vibrant, gorgeous, and the right mix of difficult ingenuity and the push for player creativity that absolutely works. Not to mention, with the amount of time since the last entry into the franchise, Prince of Persia: The Lost Crown becoming a core memory for a new generation of gamers is absolutely a great way to fall in love with the franchise.
Prince of Persia: The Lost Crown is currently slated to release on January 18, 2024, on Nintendo Switch, PS4 and PS5, Xbox One and Xbox Series S/X, PC, and Amazon Luna.