Reading Time:
2
minutes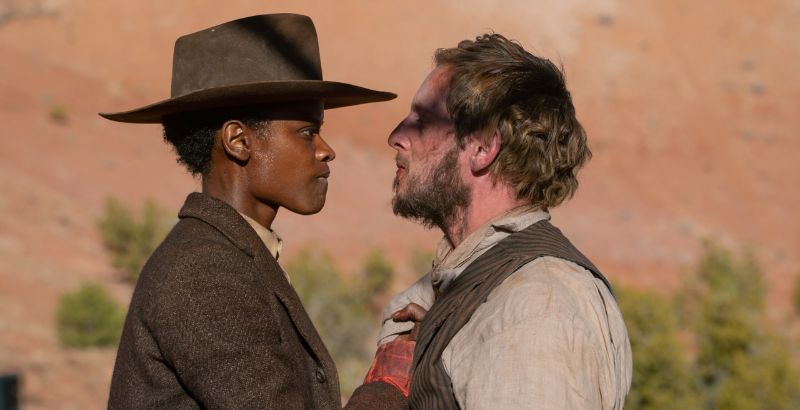 Following a successful premiere at the Sun Valley Film Festival in April 2023, Surrounded will now air on the streaming service MGM. Alongside the official trailer comes first-look images and the film poster. It is a much-welcomed release of the Western film following the first announcement of the film in October 2020.
The film's official synopsis states that five years after the Civil War, freedwoman and former Buffalo Soldier Moses "Mo" Washington travels west to claim a gold mine. Also known as the summation of years of toil for Mo and her community. It is a mean, dangerous world for an unaccompanied Black woman in 1870 America. And so Mo travels into the deep frontier disguised as a man. After a group of murderous thieves ambushes her stagecoach, Mo is forced to hold legendary outlaw Tommy Walsh captive while the remaining surviving passengers seek help. A battle of will ensues, blurring the line between captor and captive as they both try to survive the harsh Western landscape.
Anthony Mandler directs Surrounded, with writers including Andrew Pagana, Justin Thomas, and Andrew Pagan. The executive producers are Aaron Ginsberg, William Green, Jason Cloth, Richard McConnell, and Suraj Maraboyina. Anthony Mandler, Aaron L. Gilbert, and Jason Michael Berman produce Surrounded. The Western drama film stars Letitia Wright, Jamie Bell, Jeffrey Donovan, Brett Gelman, and Michael K. Williams.
While Surrounded was initially announced in 2020, the passing of Michael K. Williams led to the film's post-production taking over two years. The American actor, best known for his roles in The Wire, tragically passed away in September 2021 following an acute combined drug intoxication at age 54. This will be his final performance. Therefore, the film will likely be an emotional watch for his family and many fans.