Reading Time:
5
minutes
SXSW 2022 is the first time the international festival for film/tv, tech, education, and music has been in person since 2019. With that came excitement for in-person premieres of large films, concerts, and in our case events. If you've never been to SXSW, the festival is home to events thrown by companies attending the festival to highlight their brand. But while the brand may be the focus for these activations, they often focus on specific films, series, or IPs. For SXSW 2022, we got the chance to get to experience experiences crafted around some great titles and get the chance to interact with people for the first time since 2019 – this marks our return to in-person events as well.
Audible's Summer in  Argyle Fan-Dining Experience
To celebrate Summer in Argyle, the scripted podcast series created by Nate Odenkirk and Bob Odenkirk, Audible turned one of Rainey Street's Bangers into the strange world of Argyle, OH. Created and written by the father-son duo, the scripted Audible Original podcast Summer In Argyle is set in Argyle, OH, a small town where nothing ever happens until a mysterious death at the town's annual hot dog eating contest. This offbeat Audible Original features some of David Cross, Tim Robinson, Brian Posehn, Paul F. Tompkins, plus Carl Tart, Stephanie Courtney, Lyric Lewis, Stephanie Hsu, and more.
While there were multiple interactive experiences for the series, it was the Summer in Argyle Fan-Dining experience that took the cake, The event transported fans into Argyle's favorite special event location – the town DMV. In a transformed Bangers, Nate Odenkirk and Bob Odenkirk hosted an intimate hot dog dining affair with a menu crafted by Bangers' chefs – yes, it was all hot dogs. We got the chance to learn more about the series, listen to some jazz, and got the chance to participate in a brief Q&A with Nate and Bob where they dug deep into what goes into creating comedy in audio-only form.
80 Years of Tweety Anniversary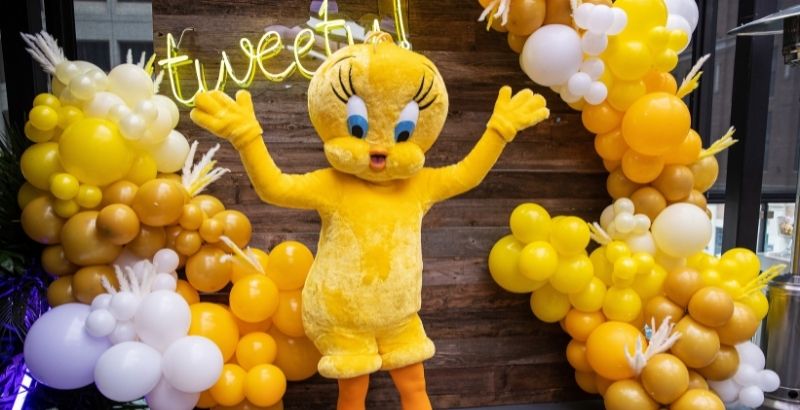 Warner Bros. kicked off Tweety Bird's 80th anniversary at SXSW 2022 by holding an "80 Years of Tweety" anniversary brunch. There, we got the chance to see the first of 80 new murals debuting in major cities around the globe, each made to reflect the iconic character in different lights. The first mural was designed by Austin-based artist Kate Dehler, alongside Robert Oberschelp, senior vice president of franchise management and marketing for WBCP.
Prime Video's Superheroes and Superstars
I love The Boys, like, a lot. I love the series' characters sure but I really love how it actively satirizes everything we know and love about superheroes. And for SXSW 2022, Prime Video pulled out all the stops to make Vought Land. In celebration of season 3 of The Boys and the debut of Lizzo's Watch Out for the Big Grrrls, Prime Video created the "Superheroes and Superstars" experience. While the Lizzo section of the experience had a lot of self-care, and great food, it was the creation of Vought Land to celebrate the world of The Boys was fun and also a perfect example of not only transporting fans to that IP, but also remembering the heart of it.
In a Disneyland take, Prime Video made Vought Land, the experience featured Diabolical's signature Vought A Burger stand (featured above), Starlight's Carousel of Dreams, Homelanders's Red, White and Booze Bar and much more. But the best part was a Pride installation focused set up to coincide with Queen's Maeve's reveal in Season 2, and the obviously capitalistic way that Vaught and Homelander embraced her identity – after you know, blackmailing her with it. An immersive experience that didn't forget its roots in satire, this was a great one to attend.
Peacock Playground
NBCUniversal's streaming service, Peacock showed up in full force for SXSW 2022 's opening weekend. They brought immersive experiences all bundled up in the Peacock Playground where fans could interact with vignettes based on the platform's original series and even chill in the lounge.
The massive Peacock Playground included gamified moments to go along with the platform's series: GIRLS5EVA which let fans recreate the series' opening sequence; Bel-Air Shoot Your Shot where fans could challenge a friend to a 30-second shoot-out; the Joe Vs. Carole Seesaw asks you to pick a side and seesaw with a friend; the Bust Down Merry-Go-Round; and the Killing It Putting Green which put fans on an Everglades-inspired mini-golf course.
DC at the WarnerMedia House
DC and Warner Bros. brought an interactive gallery and fan activation celebrating DC storytelling from comics to film, TV, publishing, games, consumer products, and more at SXSW 2022. The space highlighted DC's iconic characters and showcased authentic film and TV costumes and props, including the Batsuit from Matt Reeves' The Batman, and costumes and props from the hit HBO Max Original series Peacemaker, as well exclusive DC product reveals from Puma and Carhartt, and rarely shown highlights from DC's archive. Plus, we got the chance to enter the "Bat Cave" in the garage to check out the Batmobile from The Batman. 
Not only that, but the WarnerMedia House brought out Warner Bros. Animation (WBA) hosted an adult animation panel with creative executives from WBA and HBO Max, alongside producers from Harley Quinn. There, the panelists talked about bringing beloved and familiar characters to life in animation. Even more so, they dove into the storytelling possibilities adult animation offers to bring  different tone to the heroes often limited to only family-friendly elements.
For the opening weekend of SXSW 2022, the University of Arizona brought Wonder House for attendees. Originally meant to debut in 2020, the event was two years in the making highlighted the wonder of The University from across disciplines and colleges. The name Wonder House represents the University of Arizona's brand: WONDER and that's exactly what was brought to Austin. Over the three days, the Wonder House also became home to several immersive experiences that included  "Ripple Effect," an art installation designed by Dorsey Kaufmann, a multimedia specialist in the Department of Environmental Science, that visualizes water quality data through sound, light, and water; Monsoon VI by Mike Olbinski; the sights and sounds of the Sonoran Desert; and several 360-degree virtual reality short films.