We all love watching anime as it comes out on streaming platforms. Crunchyroll, FUNimation, Netflix, you name it, we stream it. But nothing beats bringing home collector's editions and physical copies of your favorite series. Here's an anime collector gift guide fit for the weeb in your life. This anime collector gift guide has many of my favorites and many on my wishlist to help round out my physical anime collection. From stellar collector editions with photo cards to gorgeous steelbooks and more, this list is sure to make your shopping easy for that anime fan in your life.
Amazon is releasing an exclusive Blu-ray edition of Black Clover Seasons 1 and 2. The 20-disc edition includes all 102 episodes of the Japanese anime series that aired in the US from 2017 to 2019.
Along with the episodes the boxed set includes 11 hours of special features. Bonus memorabilia includes an acrylic Asta figure statue, sword, tapestry, and necklace emblem. Each season is packaged separately in thick Blu-ray cases that slide into a collectible box.
Explore the galaxy in this undeniably hip series that inspired a generation – and redefined anime as an indisputable art form. The Bebop crew is just trying to make a buck, and they're the most entertaining gang of bounty hunters in the year 2071.
The complete set of the classic anime series Death Note released for the first time! Yagami Light is an ace student with great prospects, who's bored out of his mind. One day he finds the "Death Note": a notebook from the realm of the Death Gods, with the power to kill people in any way he desires. With the Death Note in hand, Light decides to create his perfect world, without crime or criminals. However, when criminals start dropping dead one by one, the authorities send the legendary detective L to track down the killer, and a battle of wits, deception and logic ensues…
From Makoto Shinkai, the director of the global smash hit Your Name., comes a critically-acclaimed new romantic drama set in the rain-soaked streets (and skies) of modern Tokyo. The summer of his high school freshman year, Hodaka runs away from his remote island home to Tokyo, and quickly finds himself pushed to his financial and personal limits. The weather is unusually gloomy and rainy every day, as if to suggest his future. He lives his days in isolation, but finally finds work as a writer for a mysterious occult magazine. Then one day, Hodaka meets Hina on a busy street corner. This bright and strong-willed girl possesses a strange and wonderful ability: the power to stop the rain and clear the sky…
Bonus Content: Feature-Length Documentary "The Making of Weathering With You," Interview with Director Makoto Shinkai, "Weather Front" Featurette, Talk Show: Makoto Shinkai and Yumiko Udo, Director Filmography Featurette, and Trailers & TV Spots.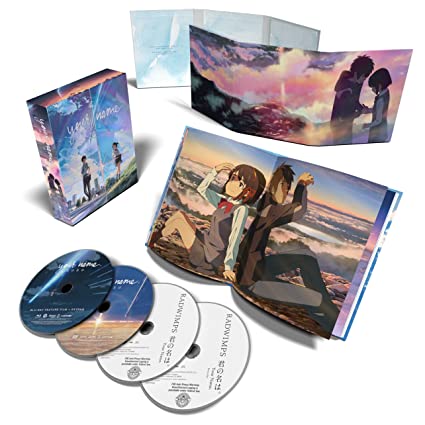 From director Makoto Shinkai, the innovative mind behind Voices of a Distant Star and 5 Centimeters Per Second, comes a beautiful masterpiece about time, the thread of fate, and the hearts of two young souls. When a dazzling comet lights up the night's sky, something shifts, and they seek each other out wanting something more; a chance to finally meet. But try as they might, something more daunting than distance prevents them. Is the string of fate between Mitsuha and Taki strong enough to bring them together, or will forces outside their control leave them forever separated?
The Limited Edition comes packaged in a collectible art box with a rainbow holographic finish, featuring the star-crossed lovers Taki and Mitsuha, and includes Your Name. 2-disc original soundtrack by RADWIMPS, with English and Japanese versions and 60-page hardcover art book.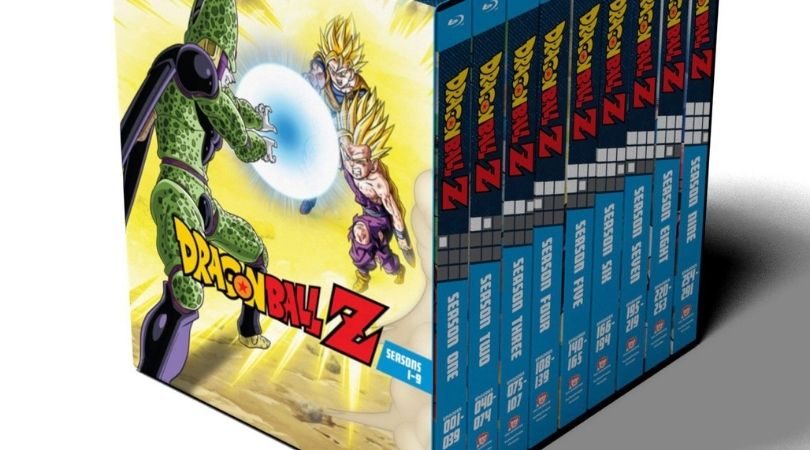 A complete collection of Dragon Ball Z episodes fro seasons 1-9 on Blu-ray.
Experience the epic saga, Avatar: The Last Airbender, with this complete collection featuring exclusive character art from each book! Go back to the beginning and experience everything from the discovery of Avatar Aang in the frozen iceberg to the mastery of all four elements, from the battle at Ba Sing Se to the final showdown with the Fire Nation.
Special Features include: The Making of Avatar Featurettes, Original Uncut Animatic "The Avatar State," Behind the Scenes with the Avatar Cast and Crew, Avatar Super Deformed Shorts, Into the Fire Nation at San Diego Comic-Con, The Women of "Avatar: The Last Airbender, Plus Featurettes, Audio Commentaries, and more!
Product descriptions for items on this anime collector gift guide come directly from listed product pages.