Avast ye matey! Metalshark Bro co-writers Kevin Cuffe and Bob Frantz (Ninja Nuns, Spirit of 666) invite pulp lovers to Kickstart an all-new swashbuckling adventure, The Dust Pirates! With exciting action sequences illustrated by renowned artist Tony Gregori (The Worst Dudes, Deuce of Hearts, Ancient Noise) and colors by Josh Jensen (Ninja Nuns), this clever and canny 80-page OGN is a reflection of modern society, tackling themes of the current social and political climate: the battle between proletariat and bourgeoisie.
Ysennia, a revolutionary water mage, transports two dashing pirates, the roguishly charming Blackheart Sam Bellamy and the tough and thoughtful Quinitor from 1790's Earth to a desert world known as Atlantis in a desperate attempt to save its people from Xsicor, the tyrannical emperor of Atlantis. The powerful ruling class of Atlantis dominates the population through control of water—the world's most important natural resource.
"Bob and I worked as co-writers again because we enjoy telling stories together; it seems to be the natural way at this point for us to tell stories," said writer Kevin Cuffe. "The project was inspired by our love of other pulp stories, but we wanted to make pulp stories where everyone felt welcome."
"Kevin and I wanted to show we could do more than absurdist comedy," said writer Bob Frantz. "Not that there's anything wrong with a sharkman fighting possessed pastries, but we wanted to tell a more classic action-adventure story. We begged Tony to draw this book because we knew that he possessed the imagination needed to create this "Desert Atlantis" visually. Tony has such great energy; his excitement for the world we were crafting was contagious. He would send over these amazing designs, and Kevin and I felt like we had to tell a story worthy of Tony's bold work."
"I always enjoy working with Bob and Kevin," said artist Tony Gregori. "They're creative guys with amazing personalities and charming dispositions. The perfect writers to bring a swashbuckling bromance comic to life with! I hope folks reclaim the sense of adventure they got from watching films like The Goonies and Indiana Jones or from reading comics like Flash Gordon and Starlight.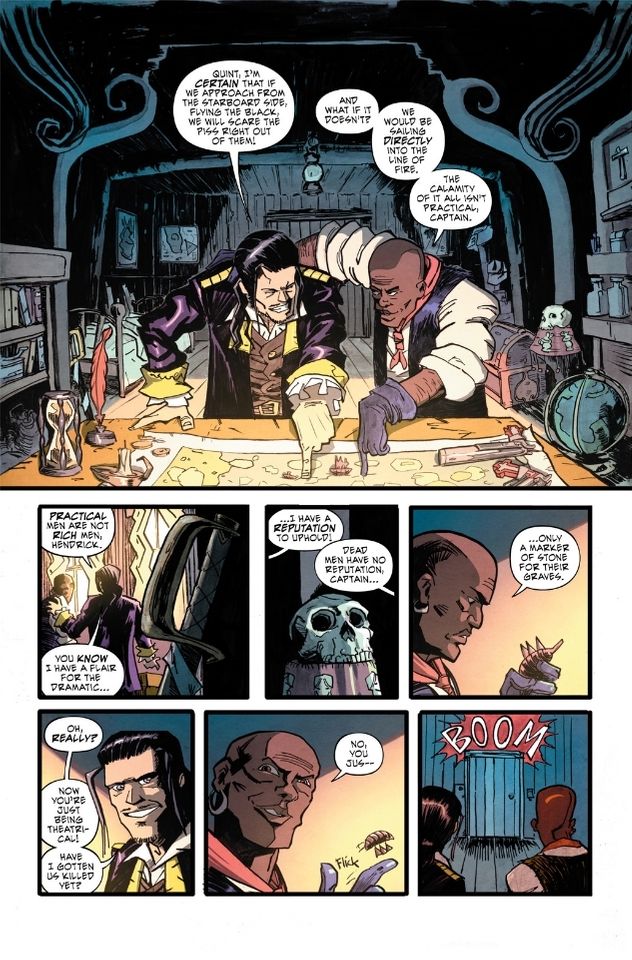 The campaign pledge tiers will feature limited-edition Kickstarter exclusive covers from some of the hottest artists working in comics, including the Eisner-nominated Mack Chater (Sword Daughter, Briggs Land), Ringo-nominated Liana Kangas (Trve Kult, She Said Destroy), Jason Copland, and Josh Jensen (Full Tilt, Kill All Monsters). K. Lynn Smith (For Goodness Sake, Plume), and Joe Mulvey and Josh Jensen (Wailing Blade, Scam).
If you are interested in Kickstarting The Dust Pirates click here.