I love Korean Dramas — known as K-Dramas. And, I love Korean manwha and webtoons just as much. So, as I was adding titles to my reading list on the Tapas app, I noticed that there were a lot of familiar stories. In the process of looking for new stories to read I've also found some amazing dramas based on webtoons, and more specifically, ones based on some available on Tapas. While there are many to choose from here five of my favorites and where you can watch them. From the supernatural to romance, science fiction, and a young male ballet dancer helping an old man live his dream, here are 5 dramas based on webtoons that you can jump into right now on Tapas.
What's Wrong with Secretary Kim
Creator: JEONG GYEONG YUN & KIM MYEONGMI
Status: Updates Every Saturday
Watch: Hulu
"Vice Chairman Lee Youngjun has everything: the looks, the brains, the money… so when his secretary of nine years, Kim Miso, tells him she wants to quit to "live her own life," he's taken aback. Realizing Miso is quitting with the intention of getting married, Youngjun offers what he thinks is the best option—himself. Unfortunately for him, a narcissist like Youngjun just isn't Miso's type. But how far is Youngjun willing to go to keep his favorite secretary by his side?"
Navillera: Like a Butterfly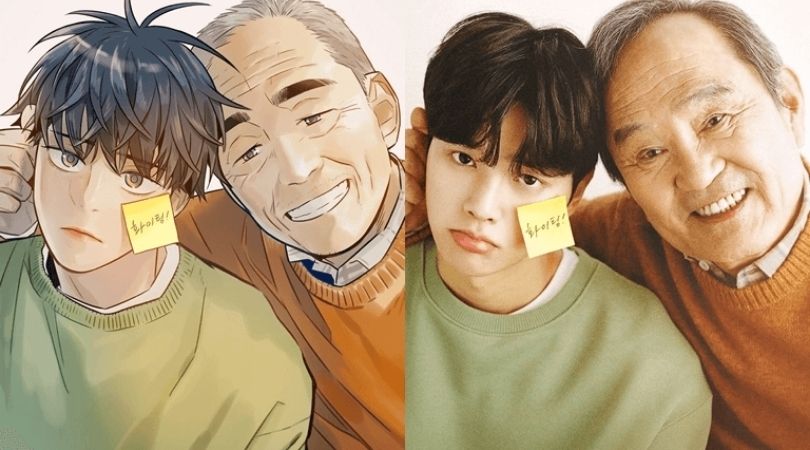 Creator: HUN & JIMMY
Status: Updates Every Thursday
Watch: Netflix
"After the funeral of an old friend, Dukchul Shim resolves to pursue something he had always wanted to try: ballet. Much to the surprise (and maybe~ horror) of his wife, children, and other acquaintances, this 70-year-old throws himself into following his heart and his passion. With the help of his young instructor Chaerok and others hoping for their own ambitions to take flight, Dukchul shows the importance and joy of pursuing one's dream… even in the face of hardships and our own mortality."
Creator: Hongjacga
Status: Completed (41 Episodes)
Watch: Netflix (film)
"With Earth's future in jeopardy, the space colony run by UTS officials is paradise. Ace pilot Taeho's a squadron leader for UTS, but after questioning their actions, he ends up on the scavenger crew of the Victory alongside rugged Tiger Park, sassy robot Updong, and fearless Captain Jang. They're chasing dreams, working off debts, and pissing everyone off. Enter Dorothy… they take her in and now EVERYONE'S after them. Can they figure out this mess or is this a ticking time bomb about to explode?"
Itaewon Class
Creator: Kwang jin
Status: Updates Every Wednesday
Watch: Netflix
"In a neighborhood known for its diversity, delicious food, and spunk, ex-convict Park Saeroyi works to put his hole-in-the-wall pub on the map. This is just one step in his 15-year plan to live a life that would have made his father proud. As his pub attracts its own unique crew, Saeroyi embarks on the next phase: taking down the very family who stole his father away from him. It's time for revenge and to prove to the world what he's worth."
Read Here.
Watch Here.
Mystic Pop-up Bar
Creator: Baehyesu
Status: Updates Every Friday
Watch: Netflix
"Burned out from dealing with their difficult lives, they are all at the end of their ropes… until they come across the Mystic Pop-Up Bar. Beckoned by its warm promise of delicious food and free-flowing drinks, they end up pouring out their troubles to the sympathetic (and occasionally abrasive) ear of the proprietor, Wolju. The keeper of the DreamWorld, she uses her powers to improve the lives of her customers, one late-night session at a time."
---
With these recommendations, we're just looking at a small sample of dramas based on webtoons in the K-Drama world. With so many more to offer, try scrolling through your favorite app and find where your favorite stories started.
Synopses of each title on this Dramas Based on Webtoons list were taken directly from the webcomic info pages on Tapas.io.