Today, Limited Run Games announced some exciting news. Castlevania fans rejoice: the critically acclaimed Castlevania Anniversary Collection is getting four physical editions on the Nintendo Switch and PlayStation4. Fans can pick up the Standard Edition for $34.99, the spellbinding Bloodlines Edition for $59.99, the nostalgic Classic Edition for $59.99, and the Belmont-worthy Ultimate Edition for $174.99. Pre-orders will be open for six weeks starting Friday, May 14th at 10 am ET on limitedrungames.com.
Konami's Castlevania Anniversary Collection traces the origins of the historic vampire franchise. Included is a unique eBook with details provided by developers, artists, and others inspired by the Castlevania legacy, which sheds fresh light on the world of Castlevania. Released as part of the Konami 50th Anniversary celebration, relive these timeless classics that helped define the platformer genre. From the Belmont clan to their extended bloodlines and allies, the Castlevania Anniversary Collection is the best first step for anyone to take into the world of Castlevania and the fight against Dracula!
The Bloodlines Edition includes a deluxe clamshell case, an original soundtrack, and a reversible 18- x 24-inch poster. The Classic Edition includes everything in the Bloodlines Edition but includes an NES dust sleeve and comes housed in a Classic NES-style retro box in place of the clamshell. For the ultimate Castlevania fan who craves both outer box variations, we've whipped up the Castlevania Anniversary Collection Ultimate Edition, which includes a shadow box that lights up and plays music, retro box art prints, a SteelBook, a collection of miniature replica boxes, a Castlevania logo enamel pin, a copy of "The History of Castlevania: Book of the Crescent Moon," an original soundtrack, reversible poster, both the classic and clamshell cases, and a retro dust sleeve.
Standard Edition (Switch/PS4): $34.99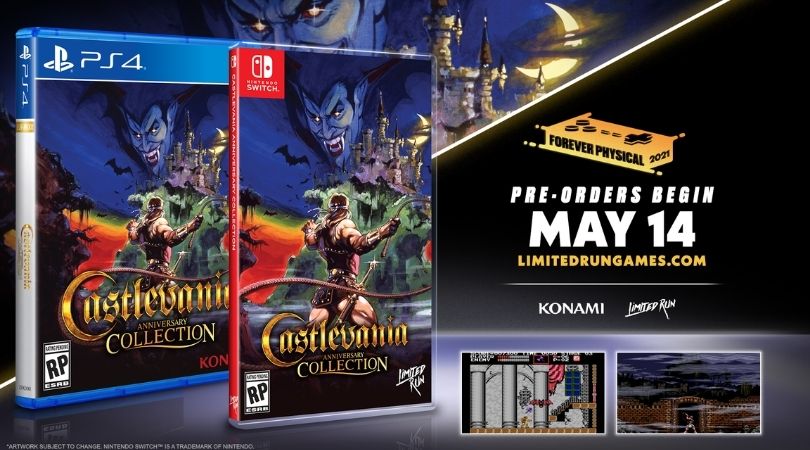 A physical copy of the Castlevania Anniversary Collection
Manual
Full-color interior art
Bloodlines Edition (Switch/PS4): $59.99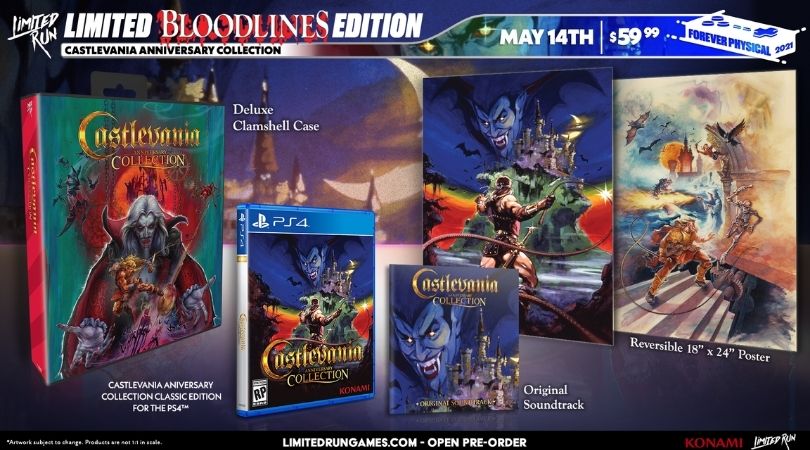 Standard Edition
Original Soundtrack on CD
Reversible 18- by 24-inch Poster
Deluxe Clamshell Case
Classic Edition (Switch/PS4): $59.99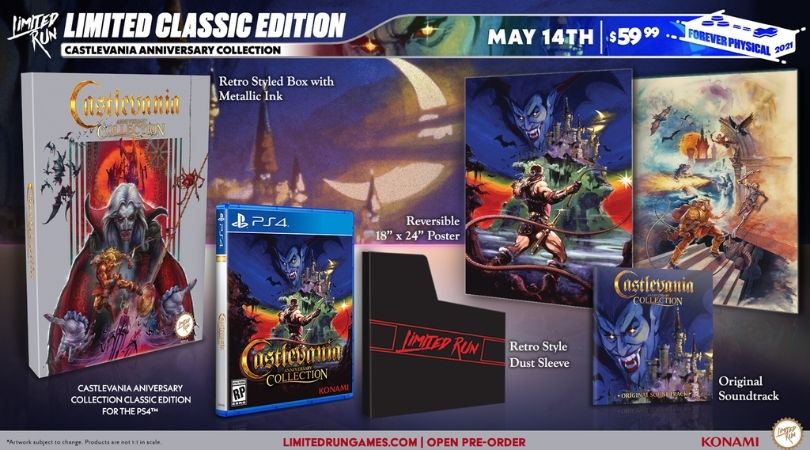 Standard Edition
Retro-Style Dust Sleeve
Original Soundtrack on CD
Reversible 18- by 24-inch Poster
Retro-Styled Box with Metallic Ink
Ultimate Edition (Switch/PS4): $174.99
Classic Edition (plus Clamshell Case from Bloodlines Edition)
The History of Castlevania: Book of the Crescent Moon
Miniature Replica Box Collection
Retro Box Art Prints
Castlevania Logo Enamel Pin
SteelBook
Shadow Box with Lights and Sound