Reading Time:
3
minutes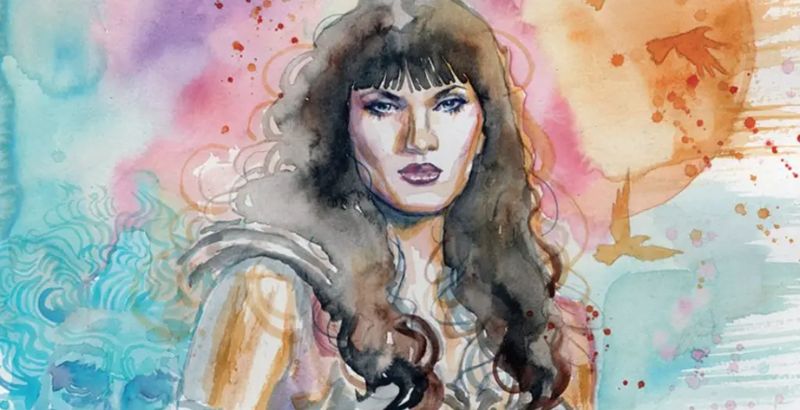 SyFy is marathoning these two iconic shows over the next couple of days and weeks. Xena is being aired by them for the first time ever and right now as you're reading this, hosted by star Lucy Lawless. Starting Monday, the classic BSG reboot marathon starts and will be hosted by Tricia Helfer.
As the official publisher of Xena and BSG comics, Dynamite has put all the classics on sale at ComiXology so you can binge them too, using our affiliate link, between watching the shows or stash them for when the marathon is over and you're craving more.
Dynamite Comics gives some of their biggest recommendations below. From early classics, defining runs, the most recent outings, and wacky crossovers, there's something for everyone!
In a time of ancient gods, warlords and kings…a land in turmoil called out for a hero! She was Xena, a mighty princess forged in the heat of battle! In this all-new series, writer Vita Ayala (Black Panther, Shuri, Wonder Woman, The Wilds) and artists Olympia Sweetman, Vasco Georgiev, Jordi Perez, and Erica D'urso throw Xena and her companion Gabrielle headfirst into a mysterious adventure. Can Xena discover the secrets of a village full of super-strong children, before jealous and petty gods get involved?
It's a dangerous time for the last remaining humans. Captured by the Cylons on New Caprica, the colonists live in fear of what every new day will bring. As the Cylons press their oppressive–and life-threatening agenda—the survivors grow more desperate to reclaim their freedom. But there's hope. Out in the wilds of New Caprica, beyond the Cylon boundaries, is a band of human freedom fighters. They answer to no one. They fear no Cylons. They are Twilight Command–and they have a plan. From writer Michael Moreci (Wasted Space, Archie Meets Batman '66) and artist Breno Tamura (Batgirl and the Birds of Prey) comes the untold tale of Twilight Command!

Dynamite Entertainment is proud to revisit the early years of Xena: Warrior Princess with this complete collection of the beloved heroine's 1999-2000 comic book adventures, originally published by Dark Horse Comics. With comic book storylines overlapping Seasons 5 and 6 of the hit television phenomenon, the fourteen issues herein present three complete arcs: "The Warrior Way of Death", "Slave", and "Blood and Shadows". Journey with Xena and Gabrielle through the high-kicking, sword-swinging escapades of yesteryear!
Issues #0-4 of Dynamite's New Battlestar Galactica comic book series are collected here! Written by Greg (Incredible Hulk) Pak and illustrated by Nigel Raynor, New Battlestar Galactica features an "unseen" season of the all-new SCI FI series, Battlestar Galactica! In this opening story arc, the dead have returned, but are they part of a prophecy or a Cylon plot? Also included is a complete cover gallery, "DVD Commentary" from the creative team, behind-the-scenes material, and more!
Xena, Warrior Princess, has toppled nations through the force of her will. She's captained the most deadly pirate crew ever to sail the seas. She even turned her back on her past, seeking redemption for her darker acts alongside her partner Gabrielle. And yet, despite her propensity for defeating all odds, her thousand-strong army has fallen to an implacable and ancient evil. Her only recourse? To use the dreaded Necronomicon to summon Ash Williams – the wise-ass, butt-kicking, smooth-talkin' demon-killer from the future – for aid! But how can Xena save the world when that chainsaw-wielding knucklehead's every temporal mishap threatens to unravel time itself? Cult-favorite media sensations Army of Darkness and Xena, Warrior Princess collide in a wildly hilarious adventure written by Scott Lobdell (Red Hood and the Outlaws, Uncanny X-Men) and featuring artwork by Elliot Fernandez and Diego Galindo!
At last! The epic story you've been dying to see is here, a galaxy and timeline-spanning saga bringing the two very different (and yet so very much alike) crews of the Battlestar Galactica series together. But don't expect this historic meeting of heroes to be friendly: they have no idea why they have been brought together, or what the result of this unprecedented meeting is. And it starts here as the legendary Commander Cain and the crew of the Pegasus are revealed to be alive and have encountered an individual they never thought they would meet: the last Cylon. All this has happened before, but there will NEVER be anything like it again!