Reading Time:
3
minutes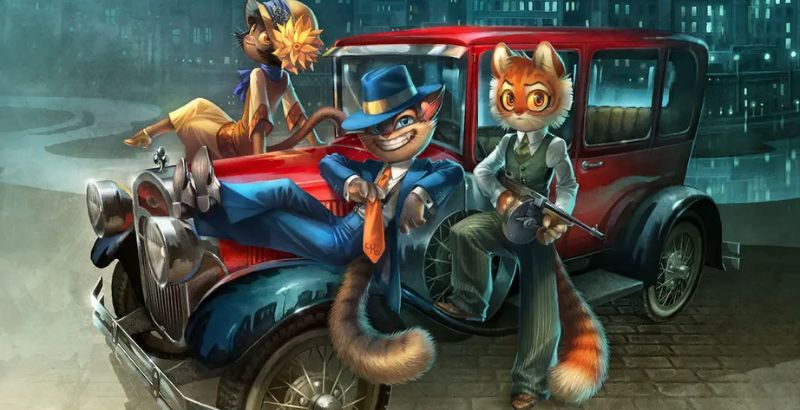 Iron Circus Comics Publisher Spike Trotman, cartoonist Tracy Butler, and director Fable Siegel have partnered for an ambitious multimedia crowdfunding campaign to adapt Butler's webcomic phenomenon Lackadaisy into an original animated short, along with a new collection of art and never before published mini-comics, The Lackadaisy Essentials. The project, which launched on March 16th, was funded in 6 hours and there's still time this week to help the project reach its final two stretch goals: mini-comic dubs featuring the voice cast and a live-action music video for the Lackadaisy: The Animated Short Film featuring Sepiatonic, the Portland-based music and dance experience that performs Electro-Vaudeville and will provide the film's theme music.
The Lackadaisy: The Animated Short Film will feature Michael Kovach as Rocky Rickaby, Belsheber Rusape as Calvin "Freckle" McMurray, Lisa Reimold as Ivy Pepper, Ashe Wagner as Mitzi May, and SungWon Cho as Mordecai Heller.
Pledges for Lackadaisy range from The Lackadaisy Essentials eBook to The Complete Lackadaisy Goodie Bag (featuring The Lackadaisy Essentials art book, volumes one and two of the Lackadaisy comic collections in ebook form, a digital wallpaper set, the completed film as an HD digital download, and a download of the soundtrack and storyboards). Remaining backer tiers include: a special thank you credit; an Associate Producer credit; and an animated cameo appearance as a background character in the film. All backers who have contributed $1,000 and over to the project are entitled to a tombstone in the background of the film's graveyard scene.
"Years ago, I reached out to Fable Siegel, an artist, and animator I've known for a long time, about putting a pitch together for an animated version of Lackadaisy," said series creator Tracy Butler. "We were told repeatedly by industry insiders that the best way to clamber over the hurdles posed by a risk-averse industry was to prove our case by producing a short animation and demonstrating that it could capture an audience. We calculated the possibilities and concluded that even if this hypothetical animation failed as a series pitch, it was something we both wanted to try – it'd be eminently gratifying as a creative pursuit, and something we would delight in being able to share with the Lackadaisy readership and a general audience."
Set in St. Louis, Missouri during the days of Prohibition, Tracy Butler's Eisner Award-nominated webcomic Lackadaisy features the Lackadaisy, a speakeasy tucked away in a cave beneath the Little Daisy Cafe, where flashing the club symbol from a deck of cards grants every cat in-the-know access to more moonshine than they could ever drink. The joint's packed full of tough dames, crooked cops, rum-runners, and wide-eyed ingenues. And they are, literally, all cool cats. The jazzy, sepia-toned crime story features action and adventure, comedy and crime, and a colorful cast of cats, including the Lackadaisy proprietors Atlas and Mitzi May, rumrunner Rocky Rickaby, and the sharp-tongued heiress to the quickly-dwindling Lackadaisy fortune, Ivy Pepper. As the creator of the comic, Butler will play a role as co-director on the animated short, overseeing art direction.
"Who knew the market for murderous, rum-running kitties was so darn robust?!" asked publishing pioneer Spike Trotman. The 30-day campaign is the first ever multimedia undertaking for Iron Circus Comics, the trailblazing comics publisher. Trotman's Iron Circus Comics were a Kickstarter early adopter, launching their first project in 2009, the year the platform debuted, and have gone on to launch 23 more projects on the platform.
"We're just days from wrapping the Kickstarter campaign and the support has been amazing," said director Fable Siegel (Titmouse, Hazbin Hotel). "I'm really astounded every day I wake up and check what's happening now. Fan donations are incredible, and we're truly touched by the support and generosity, particularly in this tough time."
"The animated short will look and feel quintessentially "Lackadaisy" in nature to readers of the comic, while simultaneously introducing a new audience to this world of Prohibition-propelled mayhem," said Butler. "One of my biggest hopes for the project is that it provides a space for contributors to exercise their skills and glean some filmmaking cred. I've been very fortunate to have had the mentorship, help, and support of many creative people on my way here, so I feel the righteous thing to do is to try to help lift other artists up in the same way. If this were to act like a bit of a stepping stone for burgeoning talents to find future industry or studio work, I'd be thrilled with that. Perhaps for some, this'll even be a piece of a roadmap for adapting their own personal, original projects for film."